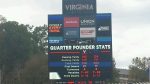 The Duke football team is left seeking answers after a 28-21 loss to Virginia.  It was the Cavaliers third consecutive win in the series and the second consecutive ACC loss for Duke.
The Blue Devils struggles on the offensive side of the ball continue to plague progress.  Daniel Jones had a forgettable day as did his wideouts who had numerous drops.
Jones finished the day 14 of 42 with two interceptions and just 124 yards.  Duke would gain just 255 yards on the day.
"The story is pretty simple, it's the passing game.  We've got issues and it has somewhat disappeared," said Cutcliffe.  "We've got issues.  When they are open we miss them, when we hit them, we drop it.  It is just not functioning."
Duke fell flat in the second half being outscored 14-7 despite numerous opportunities to get back in the game.
"The most disappointing thing is we got whipped so badly in the second half as a team.  There are a lot of issues we have to address."
A visibly disturbed Cutcliffe is not left seeking answers.  He continued his post game press conference making reference to the many breakdowns. Cutcliffe said he thought his team could be special in the passing game this year but that there has been a total breakdown and it effects quarterback confidence.
Duke will not take on Florida State at home, so the games continue to get tougher.