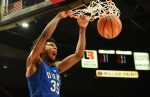 DURHAM, N.C. – Following a career performance in Duke's win over Florida State, freshman forward Marvin Bagley III has been named the ACC Rookie of the Week for the fourth time this season. Bagley was also named Duke's Student-Athlete of the Week.
Bagley reached the 30-point mark (32) for the third time this season, while setting a Duke freshman record with 21 rebounds as the rookie led then-No. 4 Duke past No. 24 Florida State, 100-93Saturday at Cameron Indoor Stadium. Bagley's performance was the first 30-20 game by a Duke player under Mike Krzyzewski and just the fourth 30-15 game under Coach K – Bagley has three of them this season, with Christian Laettner the other.
It stands as the seventh 30-20 game in school history, the first at Duke in 48 years, and the first by an ACC freshman. His 11 offensive rebounds in the game were also a Duke freshman record, and he tied Duke's freshman record with 13 made field goals. Among all Duke players, Bagley's 21 rebounds were the second-most at Cameron Indoor Stadium in the Coach K era (22 by Miles Plumlee vs. Maryland in 2012) and tied for 12th-most in a game in school history. The 21 rebounds were the most by any Duke player since Plumee's 22 vs. Maryland.
With 21.9 points and 11.6 rebounds, the Phoenix, Ariz., native is the ACC's leading scorer and rebounder. He is second in the NCAA in doubles-doubles (11), and is the NCAA's second-leading freshman scorer and rebounder.
Over the last four-plus seasons, Duke has had an ACC Rookie of the Week in 38 of a possible 76 weeks, including six of the eight weeks this season. Bagley is one of 10 different Blue Devils to have won the award at least once in that time.
No. 2 Duke (13-1, 1-1) is back in action Saturday, Jan. 6 at NC State at 8 p.m. on ESPN.
Duke's 2017-18 ACC Weekly Honors
Marvin Bagley III
co-Player of the Week (11/13)
Rookie of the Week (11/13)
Player of the Week (11/27)
Rookie of the Week (11/27)
Rookie of the Week (12/4)
Rookie of the Week (1/2)
Grayson Allen
Player of the Week (11/20)
Wendell Carter, Jr.
Rookie of the Week (11/20)
Rookie of the Week (12/26)