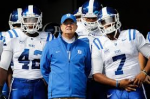 DURHAM, N.C. – Headlined by promotions for Kirk Benedict and Gerad Parker to assistant coaching positions, Duke head coach David Cutcliffe announced multiple alterations to the Blue Devil football staff on Friday.
A member of the Duke staff since 2014, Benedict elevates from graduate assistant coach to Assistant Coach/Special Teams & Defense.  Parker, who joined the Blue Devils this past summer as a Football Operations Assistant, transitions into an assistant coaching role and will mentor Duke's wide receivers.
Jim Knowles, Duke's defensive coordinator since 2010, adds the title of Assistant Head Coach while Derek Jones, a member of the Blue Devil staff since 2008, will continue to coach the cornerbacks and assumes additional duties as Assistant Head Coach [Defense].
Jim Bridge, who has served the past two seasons as Duke's Special Teams Coordinator while coaching the tight ends, shifts to handling the responsibilities of the offensive line.  Bridge managed Duke's offensive front in preparation for the Quick Lane Bowl victory over Northern Illinois following Marcus Johnson's departure to join the staff at Mississippi State.
Jeffrey Faris, who coached Duke's wide receivers for the past four seasons, moves to leading the Blue Devil tight ends and adds Recruiting Coordinator [Offense] to his responsibilities.  Matt Guerrieri, a member of Duke's fulltime coaching staff since 2015 who directs the Blue Devil safeties, adds Recruiting Coordinator [Defense] to his duties.
Duke finished the 2017 campaign with a 7-6 overall record including a 36-14 victory over Northern Illinois in the Quick Lane Bowl.  The bowl game appearance marked the Blue Devils' fifth in the last six seasons.  Duke will open the 2018 season on September 1 at home against Army West Point.
Duke Football Coaching Staff
David Cutcliffe – Head Coach (Alabama, 1976)
Zac Roper – Baxter Family Associate Head Coach/Offensive Coordinator/QB (Ole Miss, 2001)
Jim Knowles – Assistant Head Coach/Defensive Coordinator/LB (Cornell, 1987)
Ben Albert – Associate Defensive Coordinator/DL (Massachusetts, 1995)
Derek Jones – Assistant Head Coach [Defense]/CB (Ole Miss, 1996)
Jim Bridge – Assistant Coach/OL (Wittenberg, 1992)
Jeffrey Faris – Assistant Coach/Recruiting Coordinator [Offense]/TE (Duke, 2011)
Matt Guerrieri – Assistant Coach/Recruiting Coordinator [Defense]/S (Davidson, 2011)
Re'quan Boyette – Assistant Coach/RB (Duke, 2009)
Gerad Parker – Assistant Coach/WR (Kentucky, 2003)
Kirk Benedict – Assistant Coach/Special Teams & Defense (Davidson, 2010)