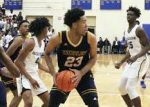 Duke will get a visit from E.J. Montgomery this Wednesday for their game with Virginia Tech.  The Blue Devils are hoping to add Montgomery to a stellar class as there are projected losses to the NBA via early entry.
Montgomery is a power forward and one of the best players in the nation. The highly rated young prospect will also be visiting North Carolina  for their game with Notre Dame.
Several southeastern schools which include Kentucky and South Carolina are also seeking his service.  There is no timetable at this time for his eventual decision.  Montgomery was originally committed to Auburn and re-opened his recruitment.  He is from Marietta, Georgia and plays for Wheeler H.S.