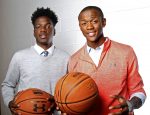 Per sources, Duke Coach Mike Krzyzewski and staff members will be in home with Bryan Antoine & Scottie Lewis on Friday.
The spring recruiting period runs through April 18. This coming Friday is the first day after the April 9-12 dead period.
The New Jersey duo recently competed in the NCAA's Next Generation event.  The two have also been an active part of giving back to their community via recent events,
Scottie Lewis (6-5) averaged 16.4 points, 5.5 rebounds, 4.2 assists, 1.4 steals and 0.9 blocks per game for Ranney HS (NJ) this past season,
Bryan Antoine (6-5) averaged 21.1 points, 3.4 rebounds, 2.2 assists, 2.5 steals and 0.8 blocks per game.
Both prospects are ranked at the top of their class and each attended the USA Basketball Men's Junior National Team October Minicamp.
Both players are also teammates on the shoe circuit for Team Rio of Under Armor.
For more on recruiting, join Blue Devil Nation Premium during our two for one special.