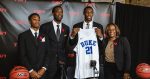 The Duke Blue Devils basketball team will play three games in Canada from August the 15th through the 19th.
The first contest will be played at the Hershey Centre in Mississauga, Ontario which is basically in Toronto.  It is also the hometown for incoming Duke freshman wing R.J. Barrett.
Duke will later play Ryerson on Aug. 15 and the University of Toronto at on Aug. 17.
The team will then travel to Montreal where the Blue Devils face McGill on Aug. 19 at 3 p.m. tip-off at Bell Place in Laval, Quebec.
Duke will have ten practices with the 2018-19 team.  No ticket information or travel plans have been made available yet.  There is also a chance the games may be carried over a network or streamed but that too, has yet to be determined.