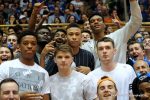 I just added part two of the Duke Basketball Team and Recruiting Update on the message board for Blue Devil Nation members.  We set the tone as the quiet periods start on who the serious targets are while covering some new names as well in a lengthy in depth update.
We cover who the staff has visited and are watching on the recruiting trail with some analysis and addition of what we're hearing on the front.
Remember we are still running a two for one year membership special where you pay just $4.16 a month for full access where you get plenty of tips and coverage from those who've been doing this for a long time.  As the AAU season progresses information and interviews will continue to flow on the Duke Basketball and Football programs.  We try to get to the point without the fluff.