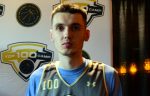 We all know Isiah Stewart has just announced he will make his college decision evening on ESPN, but Blue Devil Nation Premium members can read more on that in our latest update.
We discuss Tre Jones injury and this weekend's big visitor Matthew Hurt and some intel on a 2020 kid who may come out early.
We are currently running a 60.00 for one-year special.  The update is on the Blue Devil Nation Premium message board.