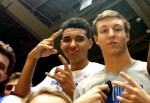 The early November signing period will yield no surprises for Duke Basketball.  That is, unless their ast target decides to go ahead and announce his decision. Blue Devil Nation has learned that not only will Chase Jeter and Luke Kennard will send their letters of intent in, but they'll also room together.
Meanwhile, another key target in Brandon Ingram and his camp continue to play their decision close to the vest.  Originally, Ingram had planned to announce decision in the Fall and that can still happen.
The Blue Devil staff has to like their early haul.  In Chase Jeter, they get a versatile front court player with plenty of upside.  In Luke Kennard, they get a hard nose competitor that can play multiple roles as well.
Jeter stands 6-11 and played his high school ball in Las Vegas.  He committed to Duke shortly after winning the MVP of an Adidas Nations event this pat August.   At that rime he mentioned being able to play for Duke Coach Mike Krzyzewski and contribute right away as being key factors.
The Jeter family took their time with the recruiting process, but Duke had gained a lead on his last visit to the school.  Still, they wanted to make sure it was the right decision and it all played out well for Duke in the end.  Jeter suitors were Arizona, Kansas, UCLA and UNLV.
When Duke first started to recruit Luke Kennard just before the 2013 Nike Peach Jam, many felt he was Kentucky's to lose.  The reason being proximity to the school and early family allegiances.  But Duke Coach Mike Krzyzewski made some quick in roads and developed a strong relationship from that point on and it led to his commitment to the Blue Devils.
During his visit to Duke, Kennard felt at home and more importantly comfortable.  He was told he could play three positions within their system on the visit and this enticed him to cast his lot with the Blue Devils.
Like Jeter, Kennard is a versatile player.  He's also very competitive in anything he does.  He gave up playing quarterback for his high school football team for the big picture of playing basketball for Krzyzewski and Duke.  Kentucky, Louisville, Michigan, North Carolina and Ohio State had all offered Kennard who will sign his Letter of Intent on Wednesday at his high school.
At last report, Duke was slated to get a visit this weekend from Brandon Ingram, a talented in state prospect from Kinston, North Carolina.  Most feel Ingram is down to the three triangle are schools which include Duke, North Carolina and N.C. State.
Ingram and his camp have been quiet of late but in no way be surprised if his decision comes at any time.  Ingram has originally pointed to a Fall decision and their camp has always been solid on their word with concern to past comments.
Both Jeter and Kennard as well as the prospect Ingram are all ranked in the top 26 players in the nation according to ESPN.
For more recruiting chatter and opinion, join Blue Devil Nation Premium, out extended subscription service.