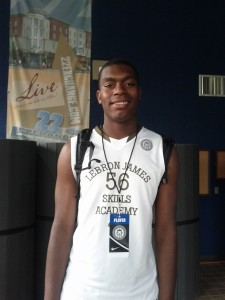 At 6'10" and 260 pounds, Dakari Johnson can't play in the shadow of many people, but behind St. Patrick's star player Michael Gilchrist, he was able to have a relatively smooth and productive freshman season, incrementally improving month by month. The rising sophomore ultimately averaged nine rebounds and three blocks per game, while playing against elite-level high school competition, starting six games for USA Today's number two high school team in the country. Johnson was named ESPN Rise's National Freshman of the Year for his significant contributions to the national power Celtics.
His talent and height are not necessarily an unexpected blessing. His mother, Makini Campbell, is 6'5" and played college basketball at Long Island University, while his father, Thomas Johnson is 6'10" and played for St. Francis College in Brooklyn, NY.
This wasn't Dakari's first experience playing varsity basketball. At Sayre Middle School, he played varsity basketball in Lexington, Kentucky, where Dakari and his mother had moved for a few years. This year, the Brooklyn native achieved a 3.7 grade point average in the classroom, while his mother was hired at St. Patrick's as an English teacher, when a position became available during the school year.
In a critical match-up against eventual National Prep champion St. Thomas More and their star center 6'11" Andre Drummond, the Brooklyn freshman stepped up his game, scoring twelve points and grabbing nine rebounds in a 73-61 win. After playing a vital role on his 26-1 Celtics team, the fifteen year-old manned the middle for a Gauchos AAU team in desperate need of an interior presence. Johnson will, however, be sidelined for the foreseeable future with a sprained ankle suffered during the LeBron James Skills Academy, where he was one of the youngest participants.
In June, the 2014 prospect competed as part of the USA Basketball's Developmental National Team in Colorado Springs. Despite ultimately not getting selected for this year's 16U team, Coach Showalter had very complimentary things to say about Dakari's long-term potential and future with USA Basketball. One big decision on the immediate horizon for Johnson is whether he will return to St. Patrick's following the departure of long-time Celtics head coach, Kevin Boyle, who left to take a similar but more financially lucrative position with Montverde Academy in Florida.
Recently, Dakari, a friendly and precocious young man, spoke briefly with Blue Devil Nation about his USA Basketball experience, Kyrie Irving, and embracing his role as a low-post big man.
Can you tell the audience a little bit about yourself away from the court?
Away from the court? Oh, I'm just a funny person who likes to just hang out with my friends and just chill.
What about your year at St. Patrick's and where are you going from here?
My year at St. Patrick's was very good. I was the only freshman on my team.
Did you feel like a rock star with all of the attention? 
(laughs) No, I didn't feel like a rock star, but I just had to play a role and you really feel like you develop month by month. Yeah, I think I came along at St. Pat's. Since we played in competition, I tried to raise my level of play. I think it really got me better. 
[private]
Are you a really good student? I know your mother teaches English... Do you know Mr. Konchalski?
No, no… Oh, you mean Tom. Yeah, I know Tom.
I'm sorry. I always call him Mr. Konchalski.
(laughs)
So, are you a good student?
Yeah, I'm a very good student. I have a 3.7 average.
Are any colleges expressing interest at this point?
Oh, yeah, Syracuse, Georgetown, Kentucky, Villanova, just a lot of them. A bunch of schools.
I assume you're wide open and in no rush to decide at this point, is that right?
Oh, yeah, I'm wide open. No rush. 
Have you taken any visits?
Oh, yeah, I went to Georgetown for Midnight Madness. I took a visit to Kentucky last year and Louisville last year. Yeah, and I took a visit to Xavier last year.
Can you touch on the fact that you actually lived in Kentucky during middle school? You went down for various reasons and you guys came back for employment and basketball reasons. 
Yeah, I lived there.
Because you're a Brooklyn boy too..
(laughs) Yeah, I'm a Brooklyn boy. I was in Kentucky during my middle school years and I actually played Varsity and J.V. 
Wow.
(laughs)
Great competition?
(laughs) No, it wasn't the toughest.
Who do you try to model your game after?
Andrew Bynum.
Andrew Bynum? Yeah, I could see that.
Yeah, Andrew Bynum. He's got long arms and a big body like me. I hope to become like him one day.
How big are you right now?
I'm about 6'11" and 260.
What are you trying to do with your body?
Trying to get stronger, trying to hit the weight room, lose some fat.
Everybody has a trainer these days, do you have a trainer?
Yeah, I got a trainer his name is John.
What are your strengths and weaknesses?
My strengths are being mentally tough and my post play. My weaknesses are my conditioning, but I've gotten better at that really for the past month since I've been training. I'm trying to take some weight off.
That's good. In terms of position, do you view yourself as more of a four or a five?
I wouldn't say I'm a pure five, but, if I have to play the four, I can. I'm very open to either.
Have you tried to work on your face-up game or are you more of a back-to-the-basket guy?
I've been trying to just work on shooting the ball. I want to be able to stay with my strength, but I want to shoot better, so I'm going to work on my face-up game, too.
Can you comment on your mother? Like you, she's also taller than me. She's about 6'5", right?
(laughs) Yeah, she plays basketball. Really, she's alright... I guess. (laughs)
Have you ever played against her?
I've played against her, but I think she stopped about maybe six months ago.
She's busy with all of those English papers.
(laughs)
I know this is a touchy issue, but are you going back to St. Pat's? 
I don't know, I'm not sure, I don't want to comment on that. (laughs)
Can you talk about USA Basketball? You didn't make the team, but I read that Coach Showalter said that of all of the guys there, you had the highest potential long-term. What was it like going through that experience and what did you learn?
USA Basketball was a great experience. I enjoyed going out there and it took some time to learn what USA Basketball was all about. When I went out there, I understood what it was all about and what it would mean to make the team.
What did you guys do out there and can you touch on the bonding?
Well, mainly we had two sessions, the evening and afternoon, we did drills and had scrimmages. We ate in between and really just hung out.
I remember from a couple of years ago Kyle Anderson when he was your age, he was talking about how much of an adjustment it was dealing with the altitude being from the East Coast. He said it was so hard to breathe, he felt like he was going to pass out when he was running.
(laughs) That really didn't affect me that much.
Well, he's more of a guard.
Yeah, it really didn't affect me that much.
Alright, well, what's your relationship like with Jahlil Okafor? Do you view it as a friendly rivalry? You're two of the best players in the class. He said you've known one another since third grade.
No, Jahlil is a good player and we're very good friends. He used to play for the Arkansas Mustangs when we were younger. I've known him for a long time and we have a very good relationship.
I asked him about you and I figured I'd just do the same for you. Who's the toughest player that you've ever gone against?
So far, probably Andre Drummond.
I was actually at that game.
Oh, yeah, that was packed. You could barely get a seat (laughs), but, yeah, he was a very good player. 
I thought you played really well that day, so did he. Do you know Kyrie? Do you have any relationship with him? And what was your reaction when he was announced the #1 draft pick?
Oh, yeah, I know Kyrie. I've talked to him a few times. I'm happy that he's made it to the NBA.
Before you were talking about conditioning..what you are you doing to improve on it and what about explosion, too?
I've just been working out with my trainer and I stayed at his house for about two weeks and we did arms and legs.
It looks like it's paying dividends in your shoulders.
(laughs) Oh, yeah.
Is he in New Jersey?
Oh, yeah, he's in New Jersey. I just do a lot of weight training and a lot of leg work. 
Did you have a favorite school growing up? Not necessarily what you might like now..
In college? I liked Syracuse growing up because I liked Carmelo Anthony, my favorite NBA player. 
Now at the NBA level, what's your favorite team?
The New York Knicks.
Finally! Thank God, I finally found one guy.
(laughs)
Everybody's a Laker fan or whatever's easiest at the time. Do you like to be a big and have you embraced it? There are some guys that are like 7'1" and are sure that God intended them to be a shooting guard.
(laughs) No, I like being a big, you know, I played that role all my life, so...sometimes I'll hit a 15 footer, but I think I need to concentrate on my low-post skills.
Mr. Konchalski, for example, thought that it was very advanced of you that, at such an early age, you recognized what your bread and butter is, so to speak. You weren't trying to be something that you weren't. 
Yeah, that's not something I'm interested in.
What's your projected size?
My projected size is 7'2."
Wow. Do you have any hard offers yet?
Yeah, Georgetown and Xavier offered me. Those are the two that offered me.
I'm sure that there'll be plenty.
(laughs) Yeah, I haven't really taken any more visits yet. This summer at the beginning of August I'll take some more visits.
And who will be on the trip with you?
Probably my mom or someone else. I'm not really sure yet. We haven't set any dates yet, but I know I'm going.
How have you enjoyed your experience at LeBron?
So far, I've enjoyed it a a lot even though the last few games I'm not going to play because of my ankle. I'm going to see if I can go to a medical doctor. 
What happened? I saw you on the ground. It looked like a tower going down.
(laughs) I went to the basket and someone took a charge down low and I just fell on it.
Thanks a lot, Dakari
Oh, sure, thank you.[/private]