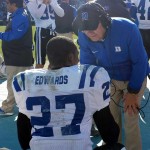 Next Up, Kansas
Players come and go with collegiate athletic teams, but fans can have long memories.  The last time Duke took on Kansas, they got thumped 44-16 back in 2009.  David Cutliffe was at the helm that day as the Jayhawks offense had their way.  But a lot has changed with Duke Football since that loss and you can bet that Cut and the fan base will seek some retribution this coming weekend in Wallace Wade Stadium.  Duke has a much deeper team now and that should bode well against the Charlie Weiss led team which comes in 1-0.  The Blue Devils also have a chance to defeat a Big 12 team and that too should add incentive.  The Blue Devils need to take care of business in a game where they tabbed an early 17 point favorite.  And make no mistake, despite that large spread, Kansas is the most talented team they've played to date.  In fact, they are littered with a lot of seniors who would love to pull off the upset on the road this weekend.
Time For Team USA To Bring Their A-Game
Duke Basketball Head Coach Mike Krzyzewski continues to rebuild USA Basketball dominance, but it's time for his team to bring their A game to the front.  Thus far, Krzyzewski has been able to play many players but that bench could shorten if they take care of business and ultimately face Spain in the final.  There has been obvious off the court chemistry and a lot of the players will certainly be better in their NBA seasons after some tutelage under Krzyzewski.  Make no mistake that USA Basketball is here to stay and that players, despite unfortunate injuries will continue to play.  In December, a 436 million dollar project gets under way in Tempe, AZ which will serve as a projected urban show place in a formerly neglected area of the city.  This will be a state of the art and top notch facility that will serve the program for years to come.  Next up for Team USA is a match with Slovenia in the quarter finals which tips tomorrow at 3 p.m. ET on ESPN 2.
ACC Coastal Division Looking Tough
Duke was picked second in the pre season by the media and they're the defending Coastal Division Champions, but this was before injuries to two All ACC players.  Since that time the division foes are all off to good or decent starts.  Virginia gave UCLA, a team some national types picked to win it all, fits.  They then walloped Richmond.  Pitt has looked especially strong and focused with a road win over B.C. as their latest victim to go 2-0.  UNC rallied to go to 2-0 as well on the young season against San Diego State.  Add to the undefeated teams, the Georgia Tech Yellow Jackets who still have that grind it out maddening offensive style that has given Duke fits.  Miami, picked to win the division in the pre season, bounced back to win big last week as teams making noise.  Perhaps the most impressive team in the Coastal though, is Virginia Tech who soared into the top 25 after defeating Ohio State in their backyard and you can see how competitive each and every division game can potentially be.  Duke will learn much about its team early on as their first two ACC games are on the road against Miami and Georgia Tech.
A Work In Progress
Blue Devil Nation will continue to make some cosmetic changes, so be patient, the current version is not the finished project.  You can get to all our football or basketball articles by simply going to "Duke Football," etcetera in the links inside the top of the articles on the main page.  In time, we'll have this as a more usable feature.  Also, be sure to check out our strong social media presence on Twitter and Facebook where we have a fan group and a regular page.  Thanks for your patience as we get to changes which should make your fan experience better.