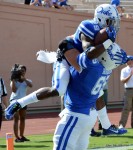 Looking Back on Duke Over Tulane
This was game was much closer than the final score indicated.  Outstanding play from Duke Special Teams coupled with some of the worst I have seen this season on the other side of the ball, led to multiple scores.  But take away the last long run from Duke quarterback Thomas Sirk late in the game and the Blue Devils and Green Wave had even yardage.  The good news is that Duke came away 4-0 with a 47-13 win but the score is not indicative of the fact that this was a close game in some ways.  The bright spots player wise  for Duke, was the play of Deondre Singleton, Jeremy Cash, David Helton and Jamison Crowder.  Our game ball goes to the special teams all the way around.
Expect Duke To Drill The Team In Protecting The Pigskin
The Blue Devils had their first lost fumble of the season in their win over Tulane.  But there could have been more. on close calls. Duke will likely focus their energy this week on protecting the ball.  They came away luck a few times and turnovers can drastically alter games moving forward.  Duke also had their first interception of the season, but there could have been more there as well for some passes went right into the pouch of Tulane defenders who muffed chance at a turnover.  The Duke passing game struggled mightily with consistent play and that is something that could also catch up to them as they enter the meat of their schedule.
Positives Too
Okay, so it sounds like I am being a little negative, huh?  Despite Duke freshman Shaun Wilson putting the ball on the ground for the first fumble of the year, he continues to be the best option via numbers in a solid four man rotation in the backfield.   He followed up his monster performance against Kansas with a 10 yard per average carry with just seven carries.  His production per touch may earn him even more touches moving forward but the staff seems to want to bring him along at the proper pace for a kid playing straight out of high school.  It is also worth noting that Duke has played some incredible football with Anthony Boone as their starter and that means his leadership is there even when his passes are a bit off the mark,  Did I mention that Duke is 4-0?
The Miami Challenge
You simply cannot overlook intangibles when looking at match ups.  Yes, Duke is ranked 23rd in the nation and Miami is unranked, but there is a reason the Canes come in as six point favorites in that they were picked by the ACC media to win their division.  Miami has lost to two stout opponents in road trips to Louisville and Nebraska and they stand at 2-2, but you can bet that their ears will be pinned back come 7:30 on ESPN 2 this Saturday.  They are a dangerous and talented team with their backs against the wall where they stand to go 0-2 in the ACC with a loss.  They will also be extra pumped after Duke thumped them a season ago in Wallace Wade in one of the Blue Devils best efforts in recent memory.  They also benefit from the return of running back Duke Johnson.  Duke has defeated some not especially strong teams to date and this will be their first true challenge of the young season.  Miami is by far the best team they have played to date and they are a strong, physical and quick football team.  What a measuring stick this will be for both teams and a fun game to watch.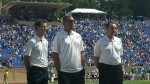 In Defense Of K
A lot of people came to the forefront in supporting Duke Coach Mike Krzyzewski after a critical article from Yahoo Sports.  This has all died down now after varying outlets lambasted what seemed like a borderline personal attack.  The man known as Coach K was honored on the field this past weekends football game, alongside Jeff Capel and he got a deserving adoration from the fans.
Off The Plane And On The Road
The Duke Men's Basketball staff visited several prospects last week, straight off their flight from Spain.  This week they take in Tyus Battle on Wednesday and Dennis Smith Sr. and Brandon Ingram today.  These are some of the top remaining prospects on the board and the Blue Devils are focusing in on their true targets now.  For the record, the visits are to workouts or open gyms which is the allowed procedure from NCAA rules.