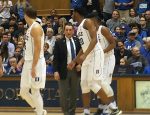 Duke walloped out-manned Maine 94-55 to push their season record to 8-1.  The Blue Devils were aided by career high scoring numbers from Luke Kennard who talked 35 points and Amile Jefferson who finished with 20.
Krzyzewski rests Grayson Allen and Frank Jackson
The Blue Devils decided to rest Grayson Allen and Frank Jackson both who've been hobbled by injuries.   The good news is that Mike Krzzyzewski said both players would likely return versus Florida, the Blue Devils next opponent in the Jimmy V Classic in New York on Tuesday,  Allen has been battling  jammed toe and practice little per the head coach.
Luke Kennard continues his torrid scoring
There was a career high 35 points from Luke Kennard who still leads a talented Blue Devil team in scoring.  Kennard has been very steady for the Blue Devils where he grabbed 8 rebounds.  That's impressive in that Duke got longer and bigger which you will see below...
Jayson Tatum and Marques Bolden make their Duke debut
Well, it took until the ninth game of the season but we finally got to see Jayson Tatum and Marques Bolden play for Duke.  Tatum got the start ''I really didn't expect to start but I did and I just being out there with the guys is all I cared about,'' said Tatum.  He continued, ''it will take some time but we'll adjust really quick.  We are just adding new guys,''  Tatum finished the game with 10 points and 8 rebounds in a mere 20 minutes of play.  Tatum said he learned earlier this week that he would play and that he was just happy to be back.  Tatum finished the game with 2 blocked shots but was credited with one for whatever reason.  Krzyzewski said Tatum had cramps when he went out onto the court and that he decided not to play him further out of precaution.  Tatum told Blue Devil Nation that he had to get his timing back and that it was a work in progress.
As for Bolden, he scored 7 points and grabbed 5 rebounds to go with an emphatic blocked shot in 12 minutes of play.  ''it was great, I mean I have just been waiting on playing all year-long so it was very fulfilling to be back there with the guys ,'' per Bolden who was smiling while making the comment.  Krzyzewski said Bolden got tired but that he was coming long.  Bolden was told just yesterday that team doctors cleared him to play.  Bolden said he did not want to disrupt the team by coming back in that they've played so well.  ''I feel pretty good but I am not myself just yet but that will come along during the season and we're going to be pretty good this year,'' said Bolden.  It is worth noting that Krzyzewski said Bolden has not done anything for five weeks before getting cleared to play.
Amile Jefferson is as steady as they come
There is no player more consistent on a talented roster than Amile Jefferson.  The graduate senior scored a career high 20 points to go with 9 rebounds.   Before he would talk about his effort, he spoke of the freshman, ''Aw man, I am so glad to have these guys back and be playing beside Jayson and Queese.  We spent so much time off the court so to be back on the court with them elevates our team.  Our team has a new happiness, a new verve.''  Jefferson said he was trying to rebound but that he played on the wing with Allen and Kennard out. Jefferson actually called out a few plays t the point tonight.
Return of inured players having an effect
Duke has not been able to practice, so it is no wonder Krzyzewski seemed light on his feet with the return of some injured freshman.  Amile Jefferson and Luke Kennard both seemed to be in a better place in the post game locker room as well.
Harry Giles is practicing well
According to Duke coach Mike Krzyzweski we could see Harry Giles Jr. after coming exams.  He started contact in practice per the Duke coach.  ''He's close to doing stuff and it might be after exams.  He's been away from over a year, so I just want him to do more five on five, when we can do five on five, in practice,'' said Krzyzewski.
K comments
''We just have to put this thing together while we are playing games.''
''Luke, Amile and Matt held us together.''
'' Frank has had a little bit of a sore foot and he's played a lot of minutes for us.''
Sidebar
Duke has won an NCAA best 130 straight games versus no conference opponents in Cameron Indoor Stadium.
Jefferson was one rebound shy of a double-double and had four on the season.
Duke has just one more non conference game in Cameron this season versus Tennessee State.
After their road game at UNLV on December 10th, Duke will have a nine-day break between games which should bode well for injured players.  That game is against Tennessee State.