Former Duke linebacker Abaraham Kromah, fresh off a CFL workout, picks against the BDN Staff this week. The standings are ugly. Suffice it to say, Bob Green is still in the lead.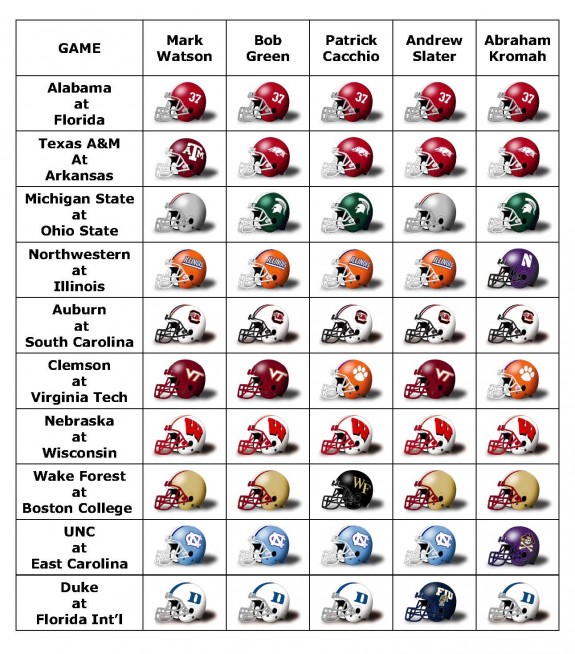 Mark Watson - FIU got caught looking ahead last week and lost their first game of the season.  Duke must be on their toes at all times, for FIU is all about the big play.  Duke has now gained confidence, but Renfree will not have as much time as he did against Tulane.  The Blue Devils will go all out in that they have a bye week coming and that effort will help them to their third straight victory.  Duke 34, FIU 28.

Bob Green - FIU will test the Duke defense with their team speed, but the Blue Devils' overall superior talent level will persevere.  On offense, Duke will look to strike hard early, and achieve balance by mixing some runs and multiple short passes with long throws to deep threat Conner Vernon.  A key statistic to keep an eye on is Time of Possession as through four games Duke is ranked #7 in the FBS at 34:29, while FIU is #104 at 27:06.  With Lee Butler unavailable due to injury, true freshman Jamison Crowder will handle punt return duties in addition to his normal role returning kick-offs.  Before this season is over, I expect Crowder to break out with a big return or two and this weekend in Miami would be a great time for Crowder to shine.   Duke 27, FIU 21

Patrick Cacchio - ESPNU was wise to televise this game, as it should be both entertaining and competitive. Both offenses feature explosive talents that are likely to put up points on the board. The Blue Devil defense is playing with renewed confidence after two victories, while the Golden Panthers will look to fight back from a disappointing conference loss to Louisiana-Lafayette. Uncle Mo is on the Duke side, and it should be enough to carry the Blue Devils into their off week at 3-2 behind another strong performance by Sean Renfree.  Duke 31, FIU 27
Andrew Slater - Florida International will look to get back on track as they take on the Blue Devils for their homecoming game. Their two offensive stars, QB Wes Carroll and WR Ty Hilton, were banged up last week against Louisiana, but are supposed to be healthy enough to go against their second BCS opponent of the season. Hilton was impressive earlier in the season when he racked up 201 yards against Louisville on national television, while the senior Carroll broke many of the school's passing records on last season's bowl run. Last week, RB Kedrick Rhodes stepped up and tried to fill the void by rushing for 157 yards in FIU's first loss of the season. Defensively, they should be concerned about Duke's resurgent passing attack, which is now averaging over 300 yards per game. QB Sean Renfree has been able to pick apart defenses by throwing short, accurate (72.7% completion percentage) passes to his tough and relatively deep receiving corps. RB Juwan Thompson distinguished himself last week by averaging nearly five yards per carry and getting his first two TDs of the season. The season-ending injury to Kenny Anunike will be a big one as he helped Duke finally establish a consistent pass rush and was the ACC's sack leader through the first four games. Matt Daniels, the team's leading tackler, will need to rally the troops and keep the momentum moving forward in South Florida. Even without their two stars, this dangerous FIU team was able to score 31 points last week. FIU 31, Duke 28.
Abraham Kromah - FIU will look to put pressure on Sean Renfree after his most recent performance against Tulane and it will be up to the Blue Devils' offensive line to neutralize it. If this happens Duke will have a field day, considering the defense is really coming into their own. Senior Safety Matt Daniels is playing like a Thorpe Award finalists and will not allow a pass to be completed nor a run to break for more than 7 yards as he looks to lead the Duke defense to it's third straight victory. Look for former all-conference receiver Don Varner to have a breakout game, assuming FIU will spend most of their time double covering Vernon (after his stellar performance last week). Duke 28, FIU 10'