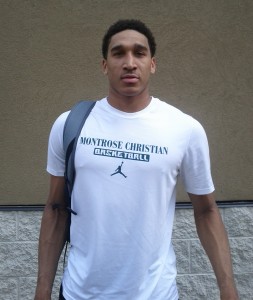 Ishmail "Ish" Wainright is a physically imposing wing from Raytown, Missouri, a city less than twenty minutes away from Kansas City. One of eight brothers and sisters and blessed with the imposing presence of hungry pit bull, he has built his reputation on toughness at both ends of the court.
Defensively, Wainright has tried to establish himself as a "shutdown defender," a phrase more commonly associated with relatively diminutive cornerbacks in football. This past weekend, the 6'6" wing with a 7'2" wingspan, played in three games and held the exceptionally talented Andrew Wiggins, the MVP of the recent Nike Hoop Summit, to a far and away session-low eight points in twenty-six minutes. Ishmail followed that up by holding consensus top twenty-five 2014 player Paul White to two points in twenty-two minutes and ESPN's sixth-ranked 2013 player, Troy Williams, to six points and four turnovers.
As a scorer, Ishmail Wainright is more of an efficient grinder than a smooth shooting wing with perfect form. He uses positioning, strength, and explosion to score over taller competitors near the basket.
After leading the Kansas City 76ers to the Fab 48 Title at the end of last summer, Wainright won the MVP of the tournament. One of the standout performances was when he led an upset by outplaying Jabari Parker in the playoffs, scoring twenty-three points and holding Parker to seventeen tough points.
Soon after the summer, he left Raytown, Missouri and headed to Rockville, Maryland to play at Montrose Christian for veteran coach Stu Vetter. Wainright went to nearby George Washington and Howard for their versions of Midnight Madness. This year, Ishmail, a brief Missouri verbal commit, was teamed up with senior wing Justin Anderson (Virginia), senior forward Michael Carrera, and Canadian point guard, Kevin Zabo. Ishmail helped the perennial power reach the semi-finals of National High School Invitational and finish with a 22-3 record. Next year, the confident Wainright will take over the leadership reins of the program.
After catching a late plane, Wainright, the cousin of former Missouri shooting guard Marcus Denmon, immediately paid dividends for his new AAU program, Team Takeover. The Takeover coaches will pair him with the slimmed down 6'9" Beejay Anya and are looking for the talented wing to be even more aggressive on offense. Team Takeover finished the weekend on a high note, defeating archival Boo Williams, 51-50, on a last second tip-in of a free throw miss.
The next night, Ishmail Wainright, a friend of Duke recruit Julius Randle, received a phone call from Coach Mike Krzyzewski, who  In depth interview ahead BDN Premium style which means you will love it.  Join today for the best AAU coverage around. [private] watched Wainright and Team Takeover play throughout the weekend, offering a full scholarship to Duke University to the 2013 wing.
Right before catching a plane, Ish Wainright spoke with me about a plethora of topics, including Duke's interest, transferring to Montrose Christian, being a shutdown defender, writing, his short verbal commitment to Missouri, refining his physique, winning the MVP, and now feeling comfortable with his Team Takeover squad.
Let's start with the transfer to Montrose Christian. How did you come to the decision to head out there? How has the transition gone?
Really, me and my dad sat down and we talked about it and he thought that it was time for me to move on. He thought that it was time for me to become a better player and a better young man. He sent me off.
How has it worked out?
It's worked out. I mean playing with older guys that are little better than me and a little bigger than me, it's been great and really, like, helped me with everything. They're also like some of the best kids in school and so they help me out with, like, school work and stuff too.
What about the experience of living away from home?
Living away from home..
Was it tough for you?
Yeah, a little bit, I mean, I got homesick like probably three times during the year.
I don't blame you.
Yeah, because I'm out there by myself and, so, they really took me in as their like, little brother or as their older brother…and then, with Takeover, they also took me in as their, like little brother and I feel comfortable with them.
In terms of a position, I'm sure that you've heard people wonder where you would play at the next level. What do you think of yourself as?
I think I'm more of a slasher, but I can also post up smaller guards.
What about winning the MVP at the Fab 48 last summer? I was there for that one, but didn't talk to you afterwards. That was a big turning point for you.
Oh, yeah, that was a tough tournament, man. We was like a major underdog in that one. Nobody expected us to beat all of those teams.
I was shocked when you guys beat Mac (Irvin). I was surprised with the way that you took Jabari out of the game effectively. I mean he's one of my favorite players and a great kid, but I have to admit that you rattled him.
Yeah, I mean I don't know if I should admit this either, but he's one of my favorite players to watch too (laughs) and I've known him since fifth grade when he was like a chubby, wide body playing for the Chicago House. He had the same moves, though, and everything.
What about playing now with an actual big guy like (Beejay) Anya and switching teams? Was it natural or…I don't know if it's uncomfortable for you to talk because it can get political and even a little fierce. We can just skip it.
No, no, it's comfortable. It's comfortable now because, you know, you saw us, I mean, last year we didn't have any big men on our squad or AAU team and…
Let's be honest. You were the big man on the team..
(Laughs)
Or, at best, guarding the other team's big man. It was kind of ridiculous.
Yeah, I was guarding like 6'8," 6'9," 6'10," 6'11"
Yeah, but it may help you, long-term, defensively.
Yeah, I think so too. I think it'll help my game. You know I'm really more of a defensive player right now. Playing against those guys all the time makes it seem so much easier now to guard wings or whatever.
I was talking with one your Takeover coaches for a while and he said that they were so pleased with how you were just shutting down the other team's wing. It's just one less problem to have to worry about defensively.
Absolutely
I was saying that even if they get around you that it's a nice luxury for you to be able to have a shot-blocker like Anya behind you and makes the other team think twice about even trying to drive around a physical guy like you and that 7'2" wingspan.
It's more like I feel like that I'm on a mission. I want to shut that guy down. I want to just take that guy out.
There aren't too many really "shutdown defenders" right now.
Yeah, yeah, yeah, there's not a lot of shutdown defenders and I feel like, if I can become a truly shutdown defender (massive boom sound from a table collapsing), well, boom! It's something that I work at and am trying to take to the next level.
What was the thinking behind committing to Missouri as a sophomore and then opening it right back up about a month later? Did you rush it or get pressured?
(Laughs) I was actually comfortable at Missouri.
Well, your older brother went there.
Yeah, exactly, my older brother goes there and is graduating. My cousin goes there. He's Marcus Denmon (graduating shooting guard for Missouri) and then I have other friends that were there like Michael Dixon. We grew up like five minutes from each other and we always played pickup together and we worked out with the same players.
In Raytown?
Yeah, mostly Raytown and Lee's Summit.
In terms of style of play, for most guys, it's pretty obvious which way that they prefer to play, but, with you, it's like a good street baller, where you can play up-and-down or you can grind it out in the half-court. Which way do you actually prefer to play?
Really, I can get up-and-down the court, but I can adapt to anything. Whatever the coaches want to run, I'll do. I can grind too. It's really up to them. I'm just happy to be out there competing. Yeah, I'm up for anything.
What do you feel are your strengths and weaknesses right now?
My strengths are getting to the basket and finishing, posting up, and passing the ball. My weaknesses right now is, well, I'd have to say that my shooting is right now, which obviously we're trying to work on.
Are you working on it at Montrose because I remember that Justin Anderson used to be terrible at outside shooting and now he's become so much better?
Yes, yes, definitely, we are working on that all of the time and you're right he's improved so much since he's been there.
What about the NHSI and playing on television?
Oh, that was a good experience, but it was a really tough loss.
What about Duke's interest in you?
Yeah, they're actually interested in me because they need a big wing that can stop people and one that can slash to the basket.
What have they talked to you about?
Oh, they've been actually talking to my parents and my high school coaches and everything.
And what's your interest level in them? They've been watching you all weekend.
It's really high right now because they've been watching me all weekend. I see Coach K every game (laughs). It's almost hard to take in that he's now actually, like, recruiting me.
Do you have any plans to visit yet?
I don't know, but I haven't made any plans to visit really any school yet. I'm just concentrating on school right now.
Generally, talk about being physical and loving to rebound.
Oh, I love to be physical and get in there and fight. I love to rebound too. I want to try to give my teammates and coaches at least ten rebounds in every game. That's my goal. I love to do it, man. Just get us more possessions or shots.
Is there a player or two that you try to model your game after?
Melo. Well, Melo and LeBron. Those are my guys.
What's your current size?
6'6," 225
You're one of eight brothers and sisters. Well, some are step brothers..
Oh, yes, it's a big family. You should check out my younger brother, Amaad (Wainright). He should be on the scene pretty soon.
I was reading your blog. You grew up actually as a Florida fan in Missouri. They're recruiting you now. Will that play a factor in your decision?
Yes, I did and I'd like to go down there for a visit.
Who will you turn to for guidance, whenever you do decide on a college?
My Uncle. I have an Uncle, who is like a mentor to me, Uncle Alex.
You've always played up, but now there's nowhere to go.
(laughs) It's hard. It's feels kinda weird. I'm now finally playing against guys my age and younger. It's definitely a different or strange feeling. (laughs)
I must say that the elephant in the room is that you just look huge close up. I'm in the gym a lot, but you look like you live there right now.
(laughs)
Are you trying to get bigger with your body? Leaner? What's the goal here? What are we doing?
I'm actually trying to get leaner. I feel like I'm a little too heavy when I'm going around the court. So, I'm actually trying to cut more body fat and weight. I want to try to get down to, at least, 220.
Have you worked on conditioning a lot at Montrose too?
Really, that's more of a "every once in a while" type of thing.
Growing up in Raytown, you were fifty miles from KU and one hundred and twenty miles from Missouri. It's less than twenty minutes south of Kansas City. I was there last October, but talk about growing up there. It's not a bad area.
Oh, well, it was a nice area to grow up in, but it's gotten a little less worse now. That's why I'm trying to work my butt off right now to get some options (laughs).
I thought it was funny that in your blog, you wrote about GW having a boring Midnight Madness, but you liked the Howard one.
Yes, yes.
I appreciated your honesty. By the way, how has the experience been with your writing and getting people to know about you through your blog?
I'm actually trying to work on the next one. I've got to do work on the next update and I'm going to try to do some stuff on the plane, but you're exactly right. It's a way for me as an athlete to get my words out there. It's a way for people to know me because I think, in the past, people thought that I was a little cocky guy or whatever.
That's it. I can see them waving that you have to run. Thanks for your time and good luck next week.
Yeah, I do. Thanks for doing this. I'll see you later.
[/private]