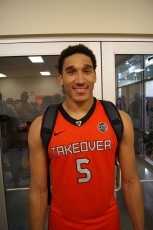 You can always count on an exciting buzzer beater shot at any session of the Nike EYBL  tour and I've seen some memorable ones from the likes of NBA bound Michael Gbinije in the past.  Each time the result is the same in that one team wins on a players heroics and his teammates erupt and mob him on the court in their splendor.
Ish Wainright, who was recently offered a schlorship at Duke, took his turn on Saturday and his three point buzzer beater gave  Team Takeover  a one point victory.  And it was a key win with his team dropping close games earlier, so you might say it was a timely shot, indeed.   BDN caught up to Wainright moments after the victory where we got his thoughts on what had just happened, the Duke offer and the recruiting process in our newest interview offering.  And be sure to see Andrew Slaters' most in depth interview three days earlier with Wainright where you can get to know one of six 2013 offers. 
You can can check out the latest bu going to our members only message board where you can catch up on all the latest happenings.  BDN Premium is a pay subscription service which allows full site access to message boards and all premium based or insider articles.