"Speak softly and carry a big stick; you will go far."
-Theodore Roosevelt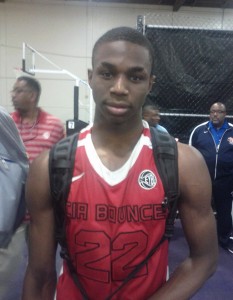 Over the past four months, Andrew Wiggins has helped strengthen his case for being the best young prospect in the world. Blessed with having two parents who possessed the genetics and self-discipline required to be world-class athletes, Andrew has not squandered his opportunity.
This April, at the Nike Hoops Summit in Portland, Oregon, the then high school sophomore captured the MVP Award after he helped lead the World Team Select by scoring twenty points and grabbing seven rebounds to an 84-75 victory over Team USA Select, featuring some of the best American talent, including Shabazz Muhammad, Kyle Anderson, and Rasheed Sulaimon.
The 6'7" Canadian followed that up by bringing his mix of elite athleticism, improved skill, scoring prowess, and competitive gusto to his balanced and deep AAU team, CIA Bounce, where they went on to dominate the Nike EYBL season, winning seventeen of their first nineteen games. Wiggins averaged over eighteen points and nearly six rebounds over the lengthy regular season, which included stops in Oakland, Dallas, Minnesota, and Virginia. In June, the patriotic young wing competed with the Canadian U-18 team in Brazil, where he averaged a team-leading 15.2 points, 7.6 rebounds, and 2 assists at the FIBA Americas U-18 Championships.
This July, he has continued his whirlwind tour by first heading to Las Vegas for the prestigious LeBron James Skills Academy. Even amidst some of the exceptional talent accumulated by Nike for this year's version of their All-American camp, Andrew Wiggins, who enjoyed the playing style of Allen Iverson, stood out with his performance on both ends of the court. Pressure can break some young men, but, although he later said he was nervous before the game, he shined in front of the United States Men's Olympic team, including his favorite current NBA player, Kevin Durant, at Durango High School in Las Vegas. After that event, he then headed to Alexandria, Virginia and later Washington, D.C., where he helped lead Canada to the Finals of the Nike Global Challenge. In the Championship game, Andrew Wiggins, who enjoys a 6'11" wingspan, rose to the occasion, scoring twenty-four points, snatching seven rebounds, and creating four steals in a narrow defeat.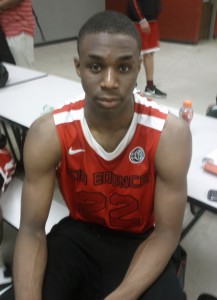 At his most recent event, the Nike Peach Jam, competing against arguably the best AAU teams in North America, Andrew took his game to greater heights. In his seven games in North Augusta, SC, Wiggins averaged twenty-two points and nine rebounds, while leading CIA Bounce to the Peach Jam Finals, before suffering a painful one point defeat, 51-50, to the Oakland Soldiers. In the Championship game, while guarded by a versatile and tough defender in Stanley Johnson, Wiggins generated twenty-three points, nine rebounds, and swatted three shots.
Genetically significant, his father, Mitchell, was an honorable mention All-American at Florida State and a first-round draft pick in 1983 for the Indiana Pacers. Mr. Wiggins, who was born in Kinston, North Carolina, played shooting guard professionally for a span of sixteen years, including six in the National Basketball Association.
Andrew's mother, Marita Payne-Wiggins, originally from Barbados, was an All-American track star at Florida State, where she met her future husband. At age 23, the 5'8″ track star,  won two silver medals, representing Canada, in the 4 x 100 meter and 4 x 400 meter relays at the 1984 Summer Olympics in Los Angeles. More than twenty-five years later, she still holds the Canadian women's outdoor record for speed in both the 200 meter (22.62 seconds) and 400 meter (49.91 seconds). Although Mrs. Payne-Wiggins didn't win another medal, she competed for Canada in the 1988 Seoul Olympics as well.
Andrew played briefly in America during the 2009-10 season for Ro Russell and Christian Center Faith Academy in Creedmoor, North Carolina, a thirty-minute drive from the Duke campus. Wiggins' parents elected to take him back to Canada to go to Vaughan Secondary School, just north of Toronto, for one year. While competing for the Vaughan Voyageurs, the nearly 6'7″ wing averaged twenty points per game. In his only high school year in his native Canada, Wiggins enjoyed a storybook ending, scoring twenty-five points and grabbing thirteen rebounds in the gold medal game to lead Vaughan to a OFSAA AAAA Championship. A year ago, Andrew Wiggins and his family decided to take his talents to Huntington, West Virginia, where he attends school at St. Joseph's Central Catholic High School, lives with a host family, and plays basketball for Coach Rob Fulford at Huntington Prep. Andrew liked the improved competition in both practice and games in America, the familiar camaraderie of knowing several of his Huntington Prep teammates through the CIA Bounce AAU basketball program, and the college-level facilities available through Huntington at Marshall University Recreation Center.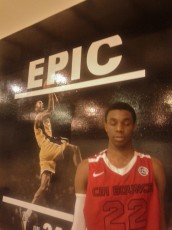 After a stellar 28-2 sophomore season at Huntington Prep, which included trips to Ohio, Illinois, New Jersey, Canada, and Washington, D.C., the accolades flooded in for the soft-spoken young man with a loud game. Andrew Wiggins, who very well may be the best Canadian basketball player since two-time NBA MVP and eight-time NBA All-Star Steve Nash, was named the MaxPreps Sophomore Player of the Year nationally and won the Gatorade Player of the Year in West Virginia after averaging more than twenty-four points, four assists, and nearly nine rebounds per game on a deep Huntington Prep Express squad. Off the court, he earned a solid B average at St. Joseph's Central Catholic High School. Basketball can be a mercenary's life, but Andrew will enjoy the stability of being back at Huntington Prep for, at least, one more season.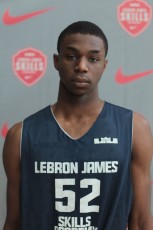 Seemingly every year, there is a new middle-school phenom unearthed and hyped as the "next big thing," but, for a variety of reasons, a very small percentage ever ultimately live up to the initial billing. When Andrew was thirteen, a highlight video or mixtape, which has now been viewed more than 4.1 million times, spread virally throughout the internet, billing him as "the best thirteen year-old on the planet." Now, at seventeen, with significantly more skill and physical development, he has managed to navigate the waters and be even closer to realizing his ultimate potential, through sheer competitive drive, guidance, and maximizing his natural talent.
In an ongoing interview with the friendly Andrew Wiggins, who visited Duke when he was younger, we spoke about a variety of topics, including his lethal mindset when he steps on the court, Duke's interest in him, and playing in front of LeBron James.
How has the transition to Huntington Prep gone and what you've gained from that experience?
It's been good…probably because I knew a lot of people and know a lot of people from AAU or other things. That's helped a lot. They've helped treat me like I'm family. 
[private]
You actually lived with a host family. How has that aspect of the experience gone so far?
Oh, that's been great. They've been treating me like it's a real family. They've taken me into their home, they help me out when I need it. 
Well, that's great.
They've acted like parents. They've been really nice to me. 
You're lucky in that regard.
Yeah, I am.
For the audience that may not know, you go to a local Catholic school, but you play for Huntington Prep. Explain how that works. It's probably a solid school.
Yeah, it's a private school, it's a great education. Teachers support us 100%. They'll help us when we need help. 
I saw that you had a B average this year in school.
Yeah, I'm working hard this year in school. I don't want any problems. (laughs)
Exactly, that's a casualty I don't want to hear about. 
Yeah, yeah.
What are you working on most over the last year in terms of skills, body, etc.?
I would think my shot has improved a lot. 
That would be the thing that people would notice most?
Yeah, that and my ball-handling, probably. Playing without the ball.
There's been some talk about you re-classifying. Maybe you will, maybe you won't. Can you address that issue? 
Oh, well, that's something I haven't really thought about yet. 
I didn't mean to put you on the spot. Alright, we'll move on. You've had a lot of international experience. How do you think that's benefited you? What was the Nike Hoops Summit experience like for you?
The international experience has been great. You get to meet new people. 
You get to travel.
Yeah, that's cool and we're all friendly. We love each other. 
And, in terms of the Hoops Summit, you got the win.
Yeah, that was good. I thought I played a good game. I got my shots. My shots were falling. I had a lot of fun and a lot of support from my teammates. They're all friendly. 
Now transitioning into EYBL, can you compare this year versus last year in terms of experience? How have you benefited?
Well, this year and last year, I think our teams are great. Last year, I think we did great. We went to Peach Jam. We played good. Last year, we didn't win it, but we still went out hard. This year, I think we'll win it. I think we actually have a better chance of winning it this year. Our team is pretty deep this year.
Pretty balanced.  Last time we talked about working out with your Dad. Do you still work out with him in the off-season and, if so, what do you try to work on most?
Oh, yeah, yeah, I definitely work out with him. He teaches me a lot.
Well, he was an ex-pro, that must help a lot. What does he teach you?
He tries to tell me what he knows and what it will take to get to the League. 
What advice does he give you now? I know in the past, he would always try to tell you to stay humble.
Yeah, he likes to say, "Stay humble and the sky's the limit."
I saw that your brother committed to Wichita State.  What was your and your family's reaction to that?
Yeah, I was happy for him. He had a lot of options. He was looking at Baylor, Oregon, but he felt most comfortable at Wichita State.
Are you guys pretty close?
Oh, yeah, we play all of the time. We're very close.
You guys must kill it at the local YMCA when you two walk in.
(laughs) Yeah.
I was looking back at a prior interview with you. You said defense is where you wanted to focus a lot of your energy. How would you assess that aspect of your game at this point?
I've tried to improve my man defense and my off-the-ball defense. I try to really get up on my guys. I'd say that my man-to-man defense is pretty good at this point, actually.
What's your current height, by the way?
I'm about 6'7 ½" and that's my real height..unlike some guys. (laughs)
Is the number one ranking still very important to you? I know in the past that was something that you were striving for.
I would say more than anything, it would really be an honor to me. I don't want to say it's incredibly important, but it would definitely be an honor and something I'm certainly shooting for and working hard to get there.
Talk about Allen Iverson being your role model. Well, not role model, but someone you're trying to model your game after.
Oh, oh, I wouldn't say role model.
God forbid.
(laughs) What I liked about him is he was under 6', he was under-sized, but he could score whenever he wanted to. He played hard both ways and we really don't have any superstars like him anymore. He helped them to the Finals.
I would think to a degree that you would try to model your game after guys like LeBron, Kobe, and Kevin Durant.
Oh, yeah, those guys are all like the best players in the League right now.
 For better or worse, I just thought those guys are versatile wings like you.
My favorite player in the League right now is Kevin Durant, but probably all-time is still Allen Iverson. It's amazing to me that he was able to get his team to the Finals and play like he did at that size.
The only time I ever spoke with him was the day before he was drafted. He had an amazing watch on his wrist. I used to like to watch how he used his hands and feet on defense. He had an amazing ability to rip point  guards with weak crossovers.
Yeah, he was amazing.
 Your parents both went to Florida State and you grew up as a Florida State fan from a very young age watching them on the television. It'll obviously have some influence on your decision.
Yeah, it'll definitely have an influence on my decision and Florida State did big things this year, but I still have to make my own decision.
You had mentioned in the past that you appreciate playing such a tough schedule. How would you assess the competition this year and compare it to what you faced in Canada last year?
The competition this year was very good. It's a lot different than Canada. A lot of people knock Canada.
Oh, no, I wasn't trying to insult Canada at all. I love Canada.
(laughs) Yeah, me too. I wasn't trying to knock it either, but the people are a lot bigger and stronger down here.
Well, there's a lot more people. 
Yeah, there definitely is a lot more people and, yeah, the competition is much better down here.
Who will you turn to for guidance whenever you do make your college decision?
It will pretty much just be my parents.
Coach K was watching you earlier in the year. Can you talk about that?
It's an honor. He's a big-time coach. He's been able to coach and develop some great players. 
What do you know about the program?
I watched a game there a couple of years ago. It's a great basketball program. They've been winning for a lot of years. They've developed a lot of pros. They play really fast and fun. 
Well, you actually lived in North Carolina for a couple of months a few years ago, but we don't need to talk about that. What has it been like to have Tyler Ennis as your point guard?
Oh, he's a great point guard. He'll find you wherever you are. He's a pass-first point guard and he has to be ready to get the ball. He's very fast in transition. He's very unselfish. 
He's very efficient as well.
Oh, yeah, he definitely is. He's a smooth passer. He can score whenever he wants to score. 
What do you think he's like off of the court?
Oh, he's a great kid off of the court. He's unselfish, he's humble, he's friendly.  He's a good person to be around.
One of the things you wanted to improve on was your three-point shooting. You can be a tough self-critic, but how would you assess your three-point shooting at this point?
I think I've actually improved a lot since last year. I feel much more comfortable shooting the ball up there. I've tried to take away my weaknesses.
Yeah, I think you have in terms of the three-point shooting. Last year, you felt comfortable anywhere from your mid-range and in. I think the word you said was you could "kill," but you wanted to push it out this year.
(laughs) Yeah, yeah. 
Your handle is another thing you wanted to improve on. You mentioned that you think that was something that you improved on.
Yeah, that's been an area I was trying to work on all winter. 
Have you taken any visits and or do you have any planned?
Well, I visited unofficially to WVU. 
That's a pretty local school.
Yeah, exactly, it was pretty close to me and I don't have any plans at this point, no.
What about your strengths? You look a little more ripped in your arms, so to speak.  Is that something you guys work on at Huntington?
Oh, yeah, we go hard. You know. (laughs)  
Yeah, I've heard.
We work hard on and off the court. We play hard on the court and in the weight room.
Do they have a good weight room facility there?
Oh, we have great facilities there.
Who would you say the toughest competitor  is that you've ever gone against? Would Shabazz be up there?
I think I would go with Anthony Bennett instead. (laughs)
Oh, a little hometown shout-out!
(laughs) Yeah, he's my boy.
Do you have any lingering injuries?
Well, my back hurts just a little bit, but it's nothing.
I've seen you lying on the floor occasionally. I just hope everything will wind up being okay for you.
Yeah, definitely, thanks.
Now, in terms of Huntington, you're going to go back next year. Is that definite?
Yes, it's definite.
What's the latest in your recruitment? There's not really any new schools?
It's the same schools that have in there. 
For the sake of the fans and my writing, can you please reiterate what schools are in the running? I just want it for the record.
Florida State, Kentucky, Duke, Syracuse, UNC.
What was it like playing in front of LeBron?
Oh, that was great. It was like a once in a lifetime opportunity. It was a huge opportunity and a real honor. I was a little nervous before the game. You know, these guys are big-time players and they're coming to watch you. 
Well, the only guy I know at all on the team is Kyrie and I just quickly tried to tell him to make sure to watch you.
Oh, yeah, thanks. It was a great experience and a real honor to play in front of those guys. 
I thought you played well, too.
Thank you, thank you. 
Have you felt any changes in your recruitment now that these coaches are allowed to text all of the time?
Oh, no, not at all, cause I haven't given out my phone number. (laughs)
Oh, smart man.
(laughs)
You mentioned before that Duke is recruiting you. What do you know about the program?
Yeah, they've been speaking with my coaches. It's obviously a tremendous basketball program and a great school. Coach K is a legendary coach and now he's working with the Olympic team. They've had great players develop and play at Duke. I visited the school when I was younger. They've been winning for a long time. 
You guys are traveling like crazy, but what are you working on most on your down period?
When I get a chance, I work out with my AAU coach and my dad. We're working mostly on jump-shots whenever I'm home. I try to work out really hard whenever I'm home.  
By the way, are you ever home?
(laughs) 
What's the story with that? Are you ever home?
(laughs) Hardly ever. 
What's your mind-set whenever you're on the court? Is it attack? In the past, you said like to think of you as a killer or that others think of you as a killer on the court.
Yeah, I guess I would say more than anything, I just to kill them.
(laughs) That's what I love about your game- that you have an absolutely killer attitude, totally cold-blooded.
Yeah, I just try to play my game, play hard, and take the other guy out. 
Would you say you try to intimidate guys?
No, I can't say that. What I would say is that when I step on the court, if they're not intimidated, I'll try to, well, they'll….
They'll learn?
(laughs) Yeah, they'll see very soon learn that they should be. 
By the way, what does your father think of all of this? The success, the notoriety, your recruitment, your development?
Oh, he's very proud of me.
I'm sure.
He sees me working very hard in the gym. 
Did he think this would happen for you?
Oh, yeah, he always thought since I was really young that I would be up for something special. He told me that I would be something special, very special. 
Yeah, well, hopefully, he turns out right. It looks like you've got a good head-start.
Thanks. 
What are your goals for next year?
I just want to make the ESPN tournament at the end of the year and win it. I'd really like to go undefeated. I'd just like to keep improving my game, that's all. 
Lastly, I've mentioned this to you before, but I'm counting on you to bring a little basketball glory to the name Andrew. You and Andrew Harrison are my two current hopes. We've got Drew Breeze and now Andrew Luck in football, but Bynum is just not cutting it. You're my hope. I'm looking for single name recognition like Kobe, Shaq, or Michael.
(laughs) All right, I'll definitely try.
Thanks a lot for your time, Andrew.
Sure, thank you.
[/private]