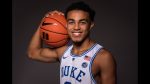 There is no question who will run the point this coming basketball season for Duke.  Another Jones is in town and he's been working on his game and leading a new group of Blue Devils.
Tre Jones is following in his brothers footsteps and those are some big shoes to fill.  Tyus Jones simply led Duke to their last National Championship, earning the name "Stones." while nailing a key three point shot before his team's celebration.
Let me go ahead and tell you, when you have a Jones running a team, good things are bound to happen.  Unlike his brother, Tre Jones is probably more athletic and stronger coming in.  He had the luxury of watching his brother while at Duke, not to mention gaining experience from him as a tutor.
Duke Coach Mike Krzyzewski said Tre was more prepared than Tyus  coming in during his press conference at the Emily K Center.  And that comment  should excite Duke fans.
"Not to put any pressure on him I would agree with Coach," said Tyus Jones during the Coach K Academy.  He continued, "He is definitely ahead of where I was and he just has to continue to advance."
Tre Jones has clearly been given the keys to dirve the team this season.  Here is the interview with Tre Jones -
So,what is it like to be on the Duke campus?
It's been amazing so far.  Just being around here and other guys that have been through here already is a lot of fun.
Coach K was talking about your game earlier today at the Emily K Center.  He said you were very advanced and when you passed the ball it was to places that would score.  Talk a little bit about that and your brother Tyus.
Right.  Yeah, just growing up and watching him, that's something he always did extremely well.  For myself, I just try to watch a lot of basketball year round and some of the top players in the world.  So, that is just something I take from other people's game.
He also said you were more advance than Tyus coming in ...
Right.  It is probably just from watching him so much and learning everything he went through before.  So, there are some things I will get a jump on.  He has been a big influence on my game.
How does your mom (Debbie) feel about being able to come back and watch Duke games again?  She is probably getting use to campus.
She is.  She is just extremely blessed.  And that is something she says all the time how blessed she is.  So, that's definitely how she is feeling.
What are the coaches telling you to work on and or how to have interchanges with the players?
I am just working on all aspects of my game to be able to come in here and have an impact right away.  I know that in order for that to happen I just have to work on everything.
On the upcoming trip to Canada ...
It should be a lot of fun to take the trip even before the school year gets started.  I think it will be a big chance for bonding as well; not just on the floor but off it as well.  Just being away from family and away from friends and being around each other will be a good experience.
Have you been talking with the other freshman a lot and if so what do you talk about?
Right.  We talk daily and it has just been great so far.  We all want to win and that is out main objective just to win.  We have a great friendship coming in and we just want to work right away.
On playing where Tyus did and a possible shadow ...
People say I follow in his footsteps but I mean this has always been my dream school to come here and play for Coach K.  It was the best fit for me, myself.  So just choosing to come here was one of the best chances to win a championship and that is one of my main goals at Duke.
Closing comment - Duke Coach Mike Krzyzewski said that the ball does not stick in Tre Jones hands.  What that means is that he believes in ball movement be it advancing the ball or immediately hitting open scorers.  Tre likes to drive to the hoop more than his brother Tyus but he will face a lot of zone at Duke with athletic cutters on his team.  He will need to learn how to bust zones from the outside as well.  All in all, Duke has a true point guard who does not let emotion dictate his play.  Like his brother Tyus, he plays the game in a cool manner and under control.
Join Blue Devil Nation premium during out 2 years for 1 membership special and get the latest on the recruiting front and behind the scenes information.  Help support or coverage efforts by joining today.