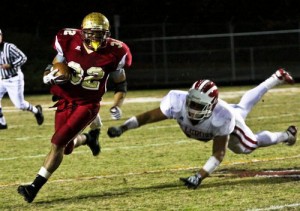 After the emergence of young stars Desmond Scott, Josh Snead, and Juwan Thompson in 2010, the Blue Devils are looking for their next great back in the class of 2012. The Duke staff has been aggressive in recruiting elite running backs, including an offer to Georgia standout Nick Tompkins. Tompkins is a 5'10" 175 pound running back from Snellville, GA. After leading Brookwood to a 2010 state championship with 1,890 yards and 22 touchdowns, the speedy junior took home several postseason honors, including Offensive Player of the Year. Tompkins has stayed busy this spring with recruiting visits as offers continue to pour in for the elite athlete. Highlights from his junior year can be viewed here.
BDN: Can you start off by describing your strengths for fans who haven't had a chance to see you play?
My strengths, well, I have a lot of speed, I'm a speed back. I run low to the ground, I have very good vision and once I break through the line, I never get brought down. Even though I'm like 175, I still break tackles, I rarely go down on first contact, I'm a hard runner too.
BDN: What are some of the things you have been working on this offseason?
Just trying to get a little big bigger, get a little bit stronger. That's really about it. Working on some route running because a lot of schools want to be able to use me in the slot also, they want to be able to use me as an all-purpose back.
BDN: What are some of your goals for yourself and your team in your senior season?
You know, try to win another state championship, go back-to-back, that's all I would say.
BDN: As you look at your college decision, what are the most important factors you are looking for in a school?
First and foremost the coaches, especially the coaches that I'll be spending the most time with there. I want them to be good people, honest, you know just nice to be around. And also I look at the players, I also like to look at the up and coming class, the 2011 class, talk to some of those guys because those are the guys you're going to be playing with. I also look at academics, I want to major in business so I'm looking for a school that has a good business school. I also look at the campus life and I'm looking for a place that could feel like home to me.
BDN: I know there are a lot of schools who have offered you, but which schools have you been in contact with the most often?
Maryland, Wake Forest, Duke, Virginia, Georgia Tech, Ole Miss, Mississippi State, Indiana, I recently got offered by Michigan State yesterday, so I had actually been talking to them before and then they offered yesterday. Last week I kind of started talking to Florida State, they haven't offered but they want me to come to camp.
BDN: Have you had a chance to visit any schools, or do you have any visits planned?
I went to Georgia Tech's spring game last weekend. The weekend before that I visited Arkansas. And I've visited Clemson. This next week I'll be visiting Maryland for their spring game and then I'm planning to visit Boston College, Mississippi State and Ole Miss, Michigan State, Vanderbilt and a few other schools, so I'm going to be really busy the next few weeks and over the summer traveling.
BDN: You mentioned the coaching staff being one of the most important things you're looking for in a school; are there any coaches that you feel you have a particularly good relationship with at this point in the process?
Well, Georgia Tech's staff. The only three schools that I've visited that have offered are Arkansas, Georgia Tech, and Virginia. Of those, I feel like Georgia Tech, I have a great relationship with their coaching staff. I've been up there three or four times now, know my way around quite well. I've built a great relationship with the coaches, I've talked to [Head Coach] Paul Johnson and know him personally. I'd say Georgia Tech has probably been the best in that aspect. But I've been getting mostly written letters from a lot of these other schools that have offered and I haven't really got to talk to them in person because I haven't visited them yet, so I'm going to wait and see how that goes.
BDN: You've obviously got a lot of great opportunities in front of you and you'll be busy over the next few weeks and months; how and when do you plan on narrowing things down to make a decision?
Probably, definitely after I visit enough schools I'll start narrowing it down by mid to end of June. Then I'll try, my goal is to try and commit somewhere before my football season starts but I can't guarantee that yet.
BDN: Thanks a lot, Nick, and best of luck.
Thanks, I appreciate it.