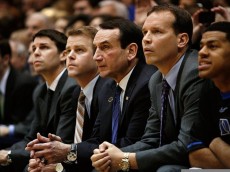 We've settled into Atlanta for the Atlantic Cost Conference Tournament andthe atmosphere is as expected.  I'm currently watching the Clemson - Virginia Tech game which is tied and of course Duke will play the winner tomorrow at 7:00.  Until then, here is an exclusive one on one interview with Duke Assistant Head Coach Chris Collins -
What is it like to have a week off before playing again and how does the team handle their time?
The good thing about it is it gives you an opportunity to concentrate on yourselves because a lot of times when you get into the meat of your ACC schedule, you always are thinking about the next game or scouting reports and how we're going to defend this. We've had now Monday and Tuesday and a really hard day on Wednesday, so three really good days to worry about ourselves and get back to fundamentals. Sometimes when you are playing a lot of games you don't get a chance to practice as long, so you can lose a little bit of conditioning. So it is like going back and having a mini training camp because there is no school with spring break and we can really concentrate on basketball and get physically and mentally ready.
Duke generally handles the tournament different than most schools.  Can you elaborate on that and share how that works?
We always kind of break the season up in parts. You have your non conference schedule to lead and then the ACC schedule and then you put that to bed and you have the ACC tournament. We view the ACC Tournament as it's own entity. An then there is the NCAA Tournament which we treat as it's own entity as well and once the selections are made we break it up into little 4 game tournaments which is our philosophy. We feel like we're fresh and some guys are playing really well while some are struggling and we needed to start new on Monday giving them Sunday off. Everybody now has a fresh new attitude and realize we're 0-0, we throw away all the stats and everything starts new and we kind of go from there.
As a staff do you depend on the upperclassmen to share the rigors of one and done tournament basketball with the younger players?
Well, I think your players have to help. It's like anything in that you can tell somebody something but until you've experienced it (smiles) it's a whole different animal so I know our guys are going to be excited and the good thing about it when you do get a bye, the guys do get a chance to see some of the games on Thursday and kind of get a feel for the venue and how it's going to be in post season play. The same thing with being able to watch some of the conference tournaments over the last few days and you see some of these games and overtimes and the level of intensity and how much more it goes up than in the regular season. So, until the young guys go through it you don;t really know and that's when you have to rely on your veterans and having older guys who have been in big games, we hope that we can help with that.
Coach Krzyzewski finishes one vote shy of ACC Coach of the Year yet this has obviously been one of his better efforts.  Do you give that any thoiught or wonder what he has to do wo win that elusive award?
You have to take that stuff with a grain of salt and that's what we tell out players and the same thing goes for coaches. You can never be concerned by things where people vote and worry about things you can control. Considering all the players we lost to the league, he's done one of his finest coaching jobs especially with the mix in this years team and guys stepping into new role ... I think he did a fantastic job, especially with our strength of schedule.
Good luck in the tournament!
Thanks.