[private]So, after a tough loss are you guys ready to go?
Yeah!  We don't hang our heads on Sunday.   We looked at the film and saw plays we should have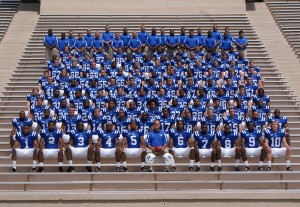 made.  On Tuesday, it was on to Clemson.  Sometimes we can't see it, but coach will point it out and we go back to work on it.
On Clemson -
I can't wait to get there ... I can't wait.  Those guys!  They're good athletes and being in that arena energizes me - the hostile crowd and people booing you.  We hope to make it a one dimensional game and shut them down.
I've watched them on film and they're big.  I don't look at it like they're too big to handle.  It's going to be a physical game and we can be successful at the line of scrimmage.  You hit some people and they start putting it on the ground.  It's going to be a fun game.
Will teams take Duke lightly now that they are under .500 for the first time this season -
That would be a huge mistake for any team to look at our 4-5 record and take us lightly.  For a team to even approach our game taking us lightly, it would be a huge mistake.  Coach always says, you're going to get their best shot.  They see Duke on film and see that we're playing good ball, so they're preparing.
What one thing stands out that you have learned as a player this season?
Being a more aggressive player.   You've got to get to the ball.  If there is a screen you've got to run.  So, getting to the ball.  Coach always says if you run to the ball and the ball pops out you have a chance at the recovery.  This is something I try to hold myself to, so that I can impact the game.
What are the seniors talking about?
All of our seniors know what the deal is.   We talk to each other in practice and say, hey this is it, just three more games.  I've been playing football for thirteen years and now I have three games left and that's not promised to me.  I have been playing this game for a long time, all the seniors have.  So we give it everything we've got in practice and leave it all on the field.  Come Saturday, it's time to show up.  The schemes are set and it's up to us and you have to be ready.
How important is student support to this team?
It's important.  We love the students and their support.  It helps a lot to know they are up there.  I know the Carolina game is over Thanksgiving, but I hope they turn out.  We need them to turn out.  I'm pretty sure the people of Durham will be there.  I've had people I haven't talked to since I was twelve years old, so my last game?  It's going to be fun.  But, Clemson is next and first things first.[/private]