Quincy Miller is a Class of 2011 forward who stands close to 6'-8".  He plays his high school basketball for Quality Christian Academy in Winston-Salem.  Quality is sure to be one of the state's best teams next season and Miller is ready for people to take notice of his game.  BDN Premium chatted with Miller during a recent event where he listed Duke as one of the schools he has interest in.
Quincy!  Let's get right down to it.  Tell me about your recruitment and what's been going on.
(smiling) Man!!!  Since last year, my freshman year, it's just gotten crazy.  Every coach in the country is calling my AAU coach and I mean everybody.
When you say AAU coach you are talking about ...
Brian Clifton and my high school coach Issac Pitts. Join BDN Premium and gain full access to the site, which includes a members-only message board.  Take a look at our premium articles in the menu to get an idea of what you are missing.[private]
What has knowing Brian Clifton meant to you?
He's like a really important person in my life.
You guys (D-One) lost a tough game and he met with the team for about ten minutes after the game.  What did he have to say?
He was mad.  We've been working on a lot of stuff and getting better but we went back to our old ways.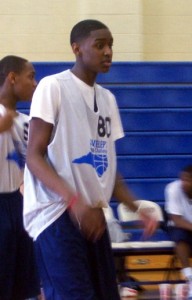 You were having a lot of success down low but didn't seem to get the ball in the last eight minutes -
I was kind of mad at that, but I wanted to play defense and block shots.  I'd rather play offense than defense.
What schools are recruiting you the most?
Um, Duke, Oklahoma State, Florida, North Carolina, Virginia Tech, Wake Forest, Memphis, both of the USC's South Carolina and Southern Cal.  Oh, and Illinois and Purdue.
When you were growing up, what conference did you watch?
I watched mostly the ACC - North Carolina.
You grew up a Carolina fan, right?
Yeah
Would that make an offer from them the one you would accept?
I don't know because I'm going to have a lot of offers.
You mentioned that Duke has some interest ..
Duke has a lot of interest!  They sent Spatola down there to watch me and I think next week at my practice that Coach K will be there.
What is it like growing up a Carolina fan and having Duke looking at you?
I like both schools.  I like North Carolina and Duke.  I've been on a visit to both schools, so ...
What kind of grades are you making?
I get all A's and B's.
If you were to describe your game to someone who had never seen you play, how would you do that?
I would  say I play like Kevin Durrant or Lamar Odom because I can play inside or outside, I've got an outside shot and have a lot of moves.  That's basically my game right there.  And I'm a good shot blocker too.
Describe yourself off the court?
Um, funny.  I'm a good kid though.  I do my work and then joke around, not distracting other kids.
You play with some pretty good teammates on your high school team as well.  Can you talk a little bit about them?
I've got some wonderful teammates.   Javonte Redick, the one that just played, (it is worth nothing that his demeanor and answers have been upbeat the entire interview) he's 6-10!  And Stargell, the fast kid, the dark skinned one, the guard!  Those are my two teammates and they're real good.
You guys will have one of the better teams and will likely be invited to some national invitationals during the season.
Yeah.  I can't wait for that.  I want an opportunity to showcase my talent to everybody.
Where do you go from here after a tough loss?
We've just got to step up and put it behind us.  We'll step up the next time out. [/private]