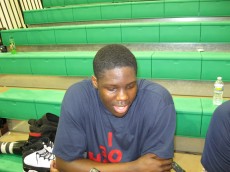 HAMPTON, Va -Make no mistake that Anthony Bennett is a top notch prospect, physically gifted with a good amount of upside.  Bennett didn't exactly sneak up on anybody during the Nike EYBL Session I in Hampton, Virginia this past weekend, but he did have a monster first game and that started the talk amongst analysts.
There was a throng of media surrounding him after his performance but you had to listen carefully to realize he was not at all familiar with the makers and shakers of college basketball.  In fact, when asked about his play against Julius Randle he [private] acted as if he knew who he was but really didn't.  He admitted that when I asked him of the two.
So, here is a kid that doesn't really know who he is going up against in that he has never really done anything but go out and play the game of basketball.  It didn't take me long to see that he was unaware of the Duke's and Kentucky's of the world, so I said, "you really don't know much about these schools, do you?" and he responded by saying, "not really, I am still learning the scene in college basketball in the United States."
Bennett is also being represented by a handler, not uncommon these days.  The bottom line is the recruiting process is just getting going with 6-8 2012 star despite what you might read.  Bennett said that Florida State from the ACC has been in touch and that he has heard of Duke from his handler and AAU coach.  So, there is little direct contact with the budding prospect.
"I feel free in AAU ball," said Bennett.  When asked what he meant, he referred to the structure that was in place on his high school team, Findley Prep.  Bennett is an aggressive player who runs the court well.  He was very active in his CIA Bounce Teams games and showed the ability to score on drives and put backs but needs work on his perimeter offensive game.
But as good as he was, you could see little holes in his game and that is not suprising.  "I have only been playing basketball for four years," said Bennett when BDN asked of his experience.  Considering the short time he has played organized hoops, his game was even more impressive.
I then asked when he became serious about his hopes of playing college basketball and then beyond.  Bennett stated, "I got serious about two years ago in Canada.  I was like 6-4 and everybody said I was a great basketball player."  That's when he decided to take his game stateside landing at the aforementioned Findley Prep.
He said his weight was 220 or 230, and we'll go with 220 from our views.  "I like to try and be aggressive and get everything that comes off the rim," said Bennett and it is statements like that that make college coaches drool.
"I really like to get out and run and I just try and be a part of every play,' quipped the rising prospect.  And while he may not know the names thrown about y the guru's asking the questions, he makes it clear with this statement, "I just go out and play, it doesn't matter to me who I am going up against, be it Julius Randle or anybody else."
Bennett said he would take his time in making his choice with concerns to collegiate basketball.  He will site down with his parents and Mike George his AAU coach in due time. 
"I am a forward, a small forward, but a lot of people see me as a big at the next level but I think I will be a small forward," said Bennett but you will have a hard time convincing seasoned coaches that he is anything but a power forward in my opinion.
We have some more questions and answers on the cutting room floor with Bennett that we hope to get to, so stay tuned for more EYBL coverage at BDN. [/private]