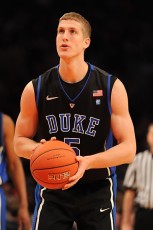 • Game 16 •
[8 AP / 6 Coaches] Duke (13-2, 1-0) vs. [16 AP / 17 Coaches] Virginia (14-1, 1-0)
Thursday, January 12, 2012 • 9:05 p.m. • ESPN (Numbers reprinted via direct permission of Duke Sports Information Department)
The Opening Tip
• Duke (13-2, 1-0 ACC) faces Virginia (14-1, 1-0 ACC) on Thursday, Jan. 12 at Cameron Indoor Stadium. Tipoff is set for 9:00 p.m. (ET).
• The game will be televised by ESPN with Mike Patrick (play-by-play) and Dick Vitale (analyst) calling the action.
• Duke is ranked No. 8 in the AP Poll and No. 6 in the ESPN/USA Today Coaches Poll. Virginia ranks 16th and 17th, respectively, in the two polls. The Blue Devils are 68-16 all-time when ranked eighth in the AP Poll.
• Duke is 16-6 against ranked opponents in the last three seasons, including a 2-1 mark in 2011-12 against ranked teams.
• The Blue Devils have won 18 straight ACC home contests entering Thursday's contest.
• Duke is one of three teams in the NCAA to rank in the top 10 of the RPI, Strength of Schedule, AP and Coaches Polls.
Duke-Virginia Series
• Duke and Virginia have met 162 times heading into Thursday's game with the first meeting between the two schools coming in 1911.
• The Blue Devils lead the all-time series 114-48, including a 48-8 mark at Cameron Indoor Stadium.
• Duke has won seven consecutive games and 16 of the last 17 in the series. The Blue Devils have won by 10 or more points in 15 of the games during that span.
• Mike Krzyzewski is 50-16 at Duke against the Cavaliers. He has led the Blue Devils to a 24-4 mark at home against Virginia. Coach K was not on the sidelines during a double-overtime home loss to Virginia in the 1994-95 season.
• Duke has won 14 consecutive home games in the series (all by double-figures) and 24 of the last 26 games at Cameron Indoor Stadium.
• The Blue Devils have won 29 of the last 32 games in the series.
Numbers Game
l Duke is 57-1 at home since the start of the 2008-09 season.
l The Blue Devils have won 43 consecutive games in Cameron Indoor Stadium with 37 of the victories coming by 10 or more points.
l Duke has scored at least 40 points in 13 of the last 14 halves. The Blue Devils rank ninth in the NCAA in scoring offense at 82.1 points per game.
l Mason Plumlee leads the ACC with seven double-doubles on the year. He has posted a double-double in three of the last five games and is averaging 10.6 points and 10.0 rebounds during that stretch.
l Miles Plumlee is averaging 9.1 points, 7.7 rebounds and 2.6 blocks per game over the last seven contests. He is 26-of-34 (.765) from the field and 12-of-16 (.750) from the foul line in that span.
l Either Mason or Miles Plumlee has grabbed 10 or more rebounds in 10 of Duke's 15 games this season. Mason has reached double figures in rebounds eight times, while Miles has three double-digit rebounding efforts.
l Ryan Kelly has scored in double-figures 10 times this season, including a career-high 21 points in the win over Georgia Tech. Duke is 19-0 over the last three seasons when Kelly scores 10 or more points.
l Quinn Cook leads the NCAA with a 4.50:1 assist-to-turnover ratio (minimum 2.0 apg.). Cook has eight turnovers in 189 minutes for an average of 23.6 minutes between turnovers.
l Tyler Thornton has made seven consecutive three-point field goals over the last four games. He is 12-of-21 (.571) from behind the arc this season.
l Duke ranks eighth in the NCAA in field goal percentage (.498). Miles and Mason Plumlee are a combined 64.2 percent (113-of-176) on the year.
l Austin Rivers is averaging 17.3 points per game against ranked opponents on the year. He has scored 20 or more points in two of Duke's three contests against ranked teams.