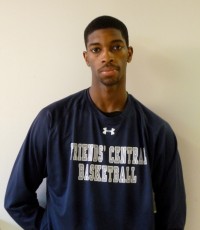 Amile Jefferson is a versatile, cerebral Philadelphia forward with a decision that is day-to-day. That decision has been heightened by the fact that the current accelerated recruiting process leaves, as early as mid-January, a very limited number of high-caliber forwards currently available.
At 6'7" and blessed with enough athleticism, skill, and quality grades that he can legitimately be recruited by any college in the nation, Jefferson has been on Duke's radar for several years. Before his sophomore year at Friends' Central, a Quaker school in Wynnewood, PA, Amile was one of two rising sophomores who attended Duke's Elite Camp. In the autumn of his junior year, Amile watched Duke unveil its fourth National Championship banner at the Countdown to Craziness. Recently, Blue Devils Coaches Krzyzewski and Collins have heated up their recruiting level from a courtship to a passionate pursuit, flying up to watch him play in person this past week.
After a tough triple-overtime loss to the Westtown School, Amile tried to lead his undersized Friends' Central team to a victory over Saint Mark's, a Massachusetts boarding school featuring 7' Kaleb Tarczewski, an Arizona commitment, and 6'5" wing Nik Stauskas, a Michigan signee. The normally efficient Jefferson was effected by getting routinely double and triple-teamed as soon as he caught the ball, primarily by the help defense of Tarczewski. Amile finished 6 of 14 from the field for fourteen points, grabbed five defensive rebounds, and had two assists in the 67-57 defeat at the hands of St. Mark's.
Following the game, amongst other things, Amile talked about how the team will look to rebound for its playoff run as he seeks his fourth consecutive state title, his imminent decision of college matriculation, the word "potential," the Blue Devils' pursuit, and the commonality between Friends and Duke University.
What are most schools recruiting you as? A pure four or one that can play both the four and the three?
I think most schools are recruiting me for my versatility of being able to play the three and the four. I don't mind banging inside, but, at the same time, I feel like I have the skill set to be able to step out and either hit that mid-range jump shot or take a player off of the dribble.
How (in depth one on one interview with Amile ahead for members!  Join BDN Premium today and be in the know.) [private] has your senior year gone overall so far?
My senior season has been pretty good. At this point, I don't think we're quite where we want to be, but…we're 9 and 4 so far.
Well, you've played a competitive schedule.
We have played a tough schedule and we've lost our last three, which has really been tough on us. Guys, who have there since freshman year, aren't used to it. We usually end the season 21-3 or 22-3 or something like that and, so, to drop three straight has been tough, but we've got to fight through this. This is what makes or brakes seasons. These next couple of games are going to be big.
What have you and your teammates gained out of playing in these showcase events like this and the City of Palms?
Oh, I think they've been great experiences. We've been able to measure ourselves against some of the best teams in the country and they've been learning experiences too. We've been able to face huge, powerhouse schools that..
You can use these experiences down the stretch in the playoffs.
Absolutely, you know we can translate that directly into our league and league play. When you come out of a game like this, you have to able to use it in a Friends League game, where it'll definitely be easier.
We've touched on the timeline, but what are some of things that you are looking for or have been looking for in your recruiting process?
Just somewhere where I'm going to be comfortable on and off the court, where I can develop my skill set, and, you know, where I trust the coaches and the environment. Things like that.
Can you describe your game for those that haven't seen you play or haven't seen you play lately?
I'm real wiry right now. I can do a lot of things with the ball, but really whatever the team needs me to do. I can rebound, pass, you know, I just try to be an all-around basketball player.
What would you say is your greatest strength? Your versatility?
Definitely. I try to be multifaceted so that I can do different things at different times.
One of the words that I think is appropriate or fair to use to describe you is cerebral. What advantages are there in, for lack of a better phrase, being able to outthink your opponent?
Yeah, there are definitely advantages because it is definitely a mental game too. You know being able to know when to make reads or make cuts…to know if your guy wants to go left or right, and like you said before, you know the angles of the game. It's important to know where to be or think about where is the shot going to come from off the rim. Things like that are definitely big parts of the game.
Those are definitely advantages for you. Another word often in articles used to describe you is "potential." What do you feel they mean and what are your thoughts when you read that?
I definitely have a lot of things to work on and, I mean, I definitely have to get bigger and stronger. That's what I'm really looking forward to when my body fills out. You know being able to get that muscle to be able to protect or be able to play at that high level for a longer period of time. You know also getting more explosive and things like that.
Speaking about your strength and conditioning, I've seen you play since you were a freshmen and you have gotten bigger, but can you talk about what you've done so far and what you hope to get out of having access to a full, college-level strength and conditioning program and facilities.
Absolutely, I mean I do pretty much no lifting right now and haven't ever done much lifting. So, for me, to start lifting is going to be a big adjustment and I think a big step up in my game.
That's where I think you're going to take your game to the next level.
Yeah, I think the biggest aspect of me developing as a player is right after I get out of school in June me getting down, I mean, going to whatever school I go to and just putting two-a-days in and getting bigger and refining my body for whatever way it needs to be.
How about Muscle Milk or protein drinks? Do you take any of that stuff right now?
No, I do not now.
What are the most difficult guys for you to guard? Athletic? Strong? This guy was huge (7' Kaleb Tarczewski).
Yeah, I guess bigger, stronger guys are definitely a tough guard just because my body isn't really there yet, but seven footers are always going to be tough to guard.
And when he's actually hitting his baby hook, you're dead.
Yeah, that was just frustrating to try to defend. That's a killer.
Do you work more on your low post moves or on your face-up game?
Right now, I've been working on my face-up game. I'm really trying to work on attacking the basket, working on shooting off of one dribble…then off of two dribbles…and just taking it to the cup.
That's one area that you looked much more comfortable in. You look much more comfortable dribbling the ball in either the open court or the half-court.
It's been tough, but I feel like I have to learn how to be more efficient with my dribbles and things like that with the ball.
Can you talk about Duke's recent involvement and speaking with Coach K and Coach Collins?
Duke is definitely a great school and so I definitely have to take a close look at them. Coach K is a great guy and Coach Collins is a great guy. I've enjoyed talking with both of them and it's just been great and I look forward to learning more about the school.
You had gone to the Countdown to Craziness last year and to their Elite Camp two years ago.
Yeah, absolutely, I went down there two years ago and I got to see the school pretty good. I'm real eager and excited to learn more about the program.
How does it compare to Friends Central? Is it similar in terms of academics, campus, etc.?
I guess you could see some similarities, you know. Both being schools that are academically challenging and athletically challenging. Really good in all walks of life.
I saw that the average SAT score for kids coming out of Friends is north of 1300 these days.
Yeah, we're definitely a rough academic school, but it prepares you for college and so that's important.
Absolutely, college might be even easier by comparison.  Did you visit the Hall of Fame and, if so, what were your impressions?
We did and I had visited the Hall of Fame before..so this is actually my second time seeing it. It was good to see some of the additions and also things I missed before.
Who are some of your favorites, either in the past or currently playing?
I love Kobe Bryant and, so to see that new USA part was just great.
I haven't had to chance to see it yet.
Oh, it's just great. It's very well done. I love to see all the old legends. You know they've got this great picture of Wilt Chamberlain when he was in Philadelphia.
That's a classic picture.  What about your goals, team-wise and individually, the rest of the way? Do you want to be a McDonald's All-American? I assume win a state title.
I just want to concentrate on first winning our league and then states again. We've won states for the last three years. I mean it's literally been every year that I've been in high school so we want to keep fighting to keep that streak alive.
Who was that massive guy that you had when you were younger, Dom Morris? Didn't he wind up going to BU?
Yeah, he was massive, a really wide, big guy, and made my job a lot easier (laughs). He did wind up going to BU.
You were actually like the second or even third option on those earlier teams.
Yeah, I know. It was good, though, because now guys just frankly kind of key on me, but if we could win states this year that would be all I'd need. I just want to go out with a state title.
Thank you very much, Amile.
Oh, no problem.
Pool Questions (multiple media free for all):
What happened out there today?
It's our third loss in a row. We've got to bounce back and just keep fighting. They're a very good team. We tried to go small and outrun them, but it unfortunately didn't work. All credit to them. You know, Kaleb is a big body and he's tough to fight with. The kid number twenty-one was very good too. They played tremendously as a team and it's a tough loss.
You've played against a lot of good big guys. How does Kaleb rank against those guys?
Oh, he ranks up there with all of them. Especially with me being a little bit undersized against him and, you know, playing centers, it's tough to really fight with them. You know with Kaleb…he's got great hands and he uses his body well to post deep and he's just definitely a quality big guy.
Defensively, is he in Nerlens (Noel)'s league? Probably not, right?
Not, well, I mean they both played me similarly. They guarded one of our other players and then helped off a lot. They put a smaller player on me so that anytime I drove, they could help ball. So, it was tough to get past a small one and then deal with an athletic seven footer every time you try to put up a shot. We needed our guys to get shots and I think we did a good job out there, but they just beat us out there and their size was a real factor.
Talk to us about the recruiting process. How is that going for you?
It's going good. It's getting close. I'm still looking at Nova, Ohio State, NC State, Kentucky, and Duke. We're going to see how that goes and how that turns out. I can tell you that I'm ready to get this over with.
Is it wearing on you?
Yeah, a little bit, definitely. You get pressure on you from fans and, you know, the time for being courted is really over now. You know everyone wants you to make a decision. There's a lot of pressure, but you've gotta just keep getting better everyday and keep fighting.
How about Duke's recruitment? It seems like they're the new school in your recruitment. It seems like they kinda just jumped in.
No, well, actually Duke was always a school that I was looking at and had interest in, but they felt that they had some players at my position and, next year, they don't have them. It's been great talking to Coach K and, with a program like that, you always give them a good look and get a closer look. You need to take a very close look at a program like that because you know that they are going to be able to compete for national championships and you'll be able to play alongside some of the top players.
Do you have a timeline for when you want to make a decision by?
I don't, but I'm hoping that it's soon. You know I think it's day to-day. I'm waiting to have big talk with my father. You know I've been traveling a lot and he's been working a lot. So, once we really sit down and give all of those coaches one last call, I think we'll be able to come to some type of a decision.
Do you think that you'll be taking any more visits?
I don't think so.
How many of your officials did you take?
I took all five.
So, have you been down to Duke unofficially?
I've been down to Duke twice unofficially, but not my junior year. My last time I went down there was during my sophomore year.
So, like two years?
Yeah, I think so.
Does that hurt them at all?
No, I don't think so. I've been down there twice. I've seen a lot. I've been talking to Coach K and Coach Collins a lot so I'm not really worried.  [/private]