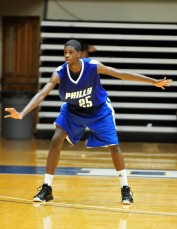 Standing at  6'8" Amile Jefferson, a  rising junior forward from Philadelphia has enjoyed a quality AAU season, winning the inaugural Fab 48 Tournament in Las Vegas while developing his perimeter skills over the past few months. The Friends Central star updated Blue Devil Nation on the latest with his game and recruitment as well as his relationships with Team Philly teammate Savon Goodman and Duke recruit Shabazz Muhammad.
How do you feel you've been playing this AAU season?
I think we've been playing pretty well as a team. We have a great team this year. We've got a nice mix of great shooters and great athleticism, with guys like Savon Goodman. I'm on a good team and I just want to keep pushing us to win as a group.
Do you feel guys can win this one?   You've got a nice team and a great one-two punch for your level in you and Savon.
I think it's attainable. Yes, for us to win this, it's going to take us going to bed on time. Discipline. Yes, discipline. It's going to be all about discipline. You know we're in Las Vegas and there are plenty of distractions available to us if we allow ourselves to get caught up in that, but we have to concentrate on why we're here. You know we lost our head coach this week.
 Yeah, I noticed. What happened?
Well, that was a tough loss for us, but, unfortunately, he wasn't able to[private]  make it out here for us. He had some personal problems that he had to take care of and I think I'll leave it at that.
Sure, sure. Well, hopefully, he'll be able to solve whatever problems are currently going on in his life.
Yes, hopefully, but it's important that we focus on the task at hand and just come out and play hard in every game we have left for the rest of the summer. I think if we do come and play hard, we'll be in a very good position to be able to keep winning games together.
In terms of you personally, how do you think you've grown, since we last spoke, which was, I believe, in early May or late April in Indiana? It looks like your pipes have grown at least a tiny bit or at least you're not covering them with the white t-shirts.
(laughs) Well, hopefully, they've grown. I'm not really concentrating on my conditioning as much as I am my ball-handling and perimeter shooting. That's been my thing that I've spent the most down time on.
Trying to develop into more of a three than a four?
Yes, I'm trying to develop into more of a three than a four. I've been working on my shot and I've got to be able to handle the ball and, you know, right now, I'm feeling much more comfortable handling the ball.
 Now, have you tried to consciously work on different positions or your versatility when you're switching between the Team Philly Sixteens and Seventeens?
Mostly, as you know, when I'm playing with the sixteens, I'm working on my versatility and playing more of a versatile game. I'm working on my dribbling and..
You're a little more creative I've got to say.
Yeah, a little more creative definitely with the Sixteens. On the seventeens, I've got to do what I can. If it's blocking shots, defending various guys, just rebounding, I've got to do it.
You're more of a role player for the Seventeens, helping out in whatever way the coach needs you to do for a particular game.
Yes, absolutely, more of a role player on that team. People are always interested in recruiting.
Which schools do you feel are recruiting you most aggressively or hardest right now?
Right now, I feel that I'm wide open. I feel like I've got plenty of time to think about that decision, but right now I've got schools like Villanova, Georgetown, Stanford, Wake Forest, West Virginia, Syracuse, Ohio State, Butler, and Texas. So, you know, we have some good options right now and hopefully in the future.
 Forgive me, but are all of those offers or a mix of offers and interest?
Yes, a mix.
Now have you taken any visits recently or do you have any planned?
I haven't taken any visits this summer, but I've been to Syracuse's camp. I went up to Georgetown. I've been to Nova's Midnight Madness and also went to Duke's Camp.
 Do you have any planned visits coming up?
I'm hoping that in late August and early September I can check out some schools. So, hopefully, that works out.
Do you still really view this as pretty early in the overall process for you?
Oh, yes, definitely
How do you like playing with Savon (Goodman)?
He brings a mix of power and athleticism. Yes, he's very athletic. When I drive and they double, it helps to have someone like him who can just finish. He throws them down so violently that it takes a toll..
Psychologically?
(laughs) Yeah, exactly, psychologically, it takes a toll on them. You see guys just, sort of, throw in the towel after a few of them. They just get out of the way or go through the motions and kind of concede the game after a while.
 You guys can both play the wing on this team. Even though this isn't exactly structured, did you guys immediately mesh or did it take some time to work on spacing, which sides you're more comfortable playing on, who was going to play inside, etcetera?
Definitely not, because I love to pass the ball and we can play all sorts of ways. We can go high-low if we're on the same side. We run screen-and-rolls a lot. I feel like I can hit the mid-range off of them.
He's a little bit shorter than you, but very strong, which allows him to play inside and really compete against guys that are several inches taller.
 Yeah, he's very strong and he can go in there against guys that are much bigger.
We talked about it before, but are you owing to transfer to a new school?
No, that was just a rumor (laughs).
Yeah, a rumor. Well, we'll leave it at that. Of all the tournaments or events that you've been at, which one has been your favorite?
 So far, Indiana.
 Oh, the one we talked at.
Yeah, I had fun in Indiana. Oh, and West Virginia. I thought we played great there as a unit, especially at the end. Last week.
How do you feel you played there?
Yeah, last week. I thought I played okay. (laughs) Alright, I thought I played well. We made it to the Final Four, but we lost on a buzzer-beater.
 Referees. (laughs)
Oh, you heard about it. (laughs)
Of all the different guys that you've had to guard this year, who's been the hardest to check?
 I'm not sure how to pronounce his name, but it's like Cha Chane Behanan?
Yeah, exactly, he was really hard to put a body on.
Yeah, he caused a lot of problems when we played him in Pittsburgh.
He's kind of similar in build to Savon. Except a couple of inches taller.
Yeah, he is and very strong and athletic.
Speaking of Savon, why don't you give the audience a quick scouting report on him?
Savon is a great, athletic player. He rebounds the ball very well for his size- because of his strength and complements me very well. Defensively, he's a difference-maker and makes the game easier for me because I don't have to guard the other team's toughest matchup.
Have you guys talked about playing in college together or is it more of a matter of "If it happens, it happens?"
Not really because we're both pretty much wide open. We have talked about it, but, right now, we're just enjoying high school.
Absolutely, enjoy these times. I was just curious. Who are some other guys that you're tight with on a national level?
Sure, I'm friends with a lot of the guys on the Adidas Nations teams. Of those guys, I'm closest with Shabazz Muhammad.
 Oh, he's a very nice kid to deal with.
 Yeah, he's very, very nice.
 Also driven and just a tremendous natural scorer.
Absolutely, tremendously talented.
I can see why you two would hit it off. He's similar to you, in terms of being a cool, likable guy to deal with off the court, but oozing with talent on it.
(laughs) Yeah, hopefully. The other guy I'm close with D'Vauntes (Smith-Rivera). He's really good.
Yeah, it was a shame he got hurt so early in the summer.
Yeah, I hope he can get back to the way he was, but that's why I like their events so much because it's not just a collection of players.
They've really collected a lot of talented players, who are also good guys that are easy to hang out with off of the court. I didn't know if Adidas and Mats (Adidas Nations Director Darren "Mats" Matsubara) would be successful, but they've really pulled it off.
 Yeah, they have and it's been fun to be a part of.
Now, has Duke contacted you recently?
If they have, they would've talked to my father. He's actually right over there,
Oh, that's your father.
(laughs)Yeah, he's had to coach us since our regular coach wasn't able to make it. He handles almost all of my recruiting.
I hadn't seen him at some of the other events. That's cool that he was able to make this one for you. I think you have a really good shot at winning it. You've got a few inches on your dad now. Of course, I'm jealous of both of you.
(laughs) Yeah, yeah, but it's not always an advantage.
I'd take my chances. Lastly, what would you like the audience to know about you away from the court?
That I'm a cool kid, who's easy to hang out with and doesn't do anything bad off of it. I just play basketball and go to school. Nothing too much right now, but, right now, that's my life.
Alright, well, thank you very much.
Of course. [/private]