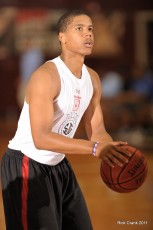 It's a sweltering summer evening inside McDougald Gym on the campus of North Carolina Central University in Durham, North Carolina. Fans pack the arena to cheer on local college stars and current professional players during the annual North Carolina Pro Am, an extremely popular event. Andre Dawkins's team is up next and once the game starts it takes no time to hear the P.A. announcer bellow in a loud voice, "Dre, all day!" as Dawkins drains back to back three pointers.
"I like the nickname, Dre all day. It's my Twitter handle and is a nickname that I have had for a long time. The dad of one of my childhood friend's came up with it. I'm not sure where he got it from, but it stuck and I like it," Dawkins told BDN on that late August evening.
After Dawkins drained the aforementioned three point shots, he turns and runs back up court and you can see a ton of confidence in his body language. There is little doubt that Dawkins has improved his game in the off season and that allowed him to start during the China / Dubai trip.
As it turns out, Dawkins performances during the Pro Am were no anomaly. Dre racked up points by the bushel scoring 35 one night, 24 of those coming in the second half. "I tried to get easy baskets instead of forcing the issue," said Dawkins who nails three pointers with the same ease as a grown man dunks on a Nerf goal.
Dawkins had three consecutive 30 plus point games before slumming at a mere 25 points one evening, only to come back and hit 31 in the next game.
"The first night I was hitting a lot of threes in the first half but in the last game I concentrated more on getting to the basket," said the rising junior.
When asked if he was ready to step up his game this season, Dawkins stated, "I hope so, we lost a lot of scoring from last season so there will be opportunities."
Perhaps no player on the Duke roster has been through what Dawkins has. His sister's untimely passing was something he had to deal with as a true freshman. In fact, Dawkins had enrolled in Duke a year early after graduating early by going to summer school. And for those who may not remember his recruitment, Dawkins was a huge Duke fan before the offer ever came.
Dawkins emotions were evident after the tragedy and he realizes that as well. His confidence would sway with a hit or missed shot and it was clear to read that on his face. "This year if I miss a few shots I have to come back just as confident," said Dawkins. He continued by saying "I have been working everyday on ball handling and trying to get in real good shape and be aggressive on both ends of the court."
The sharp shooting swing man is now one of the older players on the Duke roster and he is aware that young guys will look up to him and learn from his experiences. "It's been going really well for them to date with the newcomers and I show them what I can. Guys are learning our system and we try to get better each time out."
He also said that the coaches expect him to step up as well, "I know what all the coaches expect and it helps a lot to understand the expectations."
When Dawkins smiles, he can light up a room. The smile is genuine. One will quickly notice that his braces are gone this season and that in some sense relates to the maturation of his game.
Once the dust settled at the Pro Am, Dawkins was one of the leading scorers in the event, if not the top one overall. More importantly, his team went undefeated until the last day of the regular season, but he missed the playoffs preparing for the Fiendship Games in China. "It's just a comfort level. I've played with a lot of the guys on the team before and they know to look for me in my spots. It just felt good out there," stated Dawkins on his overall play.
Next up for Dawkins was the China-Dubai trip where the Blue Devils got some early preparation for the coming season. Once the trip concluded, Dawkins showed again that he was more than capable of scoring in bunches. You can bet that other ACC teams payed close attention and they'll certainly concentrate on trying keep him from going off on them.
I asked Dawkins after the trip about his confidence and improvement and he replied, "Yeah, I do have more confidence. It comes from a lot of hard work over the summer and as you work hard you gain confidence. I feel like I have gotten a lot better and plan to show that this year."
That said, you may not hear the announcer in Cameron Indoor Stadium exclaim, "Dre, all day," with a booming voice which echos throughout the rafters, but that doesn't mean Andre won't be lighting the competition just as he did this summer.