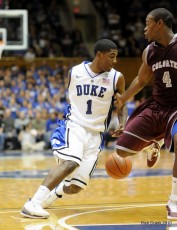 Back in the building where he won a New Jersey State Championship as a junior for the St. Patrick's Celtics and about a thirty minute drive from his hometown of West Orange, NJ, Kyrie Irving didn't waste an opportunity to help Duke achieve a decisive 82-70 win over last season's national title runner-up, Butler University.
Among his seventeen second-half points were critical back-to-back three-pointers at the top of the key late in the second half to stretch Duke's lead to nine at 66-57.  With 4:!2 left in the second half, the freshman point guard stubbed his toe after taking Butler's Matt Howard off of the dribble. He was taken out of the game temporarily, but, after getting looked at by the Duke support staff, reentered the game in the closing minutes with his father, Drederick Irving, seated nearby.
This game concluded a difficult stretch for the Duke Blue Devils, as they have faced Marquette, Kansas State, Oregon, Michigan State, and Butler in a two week span, all but one having been played far from the friendly and loud confines of Cameron Indoor Stadium. After the game, the always personable and mature young point guard, fresh off a pair of high-scoring games against high-profile opponents, spoke with the media anxious to hear from the hometown star.
Can you put the last few few weeks in context?

Up to this game..well, coming up to this game, we had a rough two weeks because we were playing against the top teams in the country. It's been a good growth period for us as a group. You know coming up to New Jersey. My hometown, man.
You guys got off to a slow start and they played you well defensively initially. Were you guys a little flat?

Yeah, we started off the game a little flat. Coach talked to us about, you know, picking up our energy. Our pressure was there, but they were seeing a lot of open looks. We tried to limit that, but, you know, they're a good team. Credit to them.
What did you see offensively? It seemed like the high-screen was really working in the second half?

Yeah, you know, we just continued running it, until they stopped it. In the second half, it worked really well for us.
What happened on the play where you hurt your toe and came out of the game?

Yeah, I was just on the wing and Howard was guarding me and I think I just stumped my toe. I had to come out of the game.
But you're okay now?

Yeah, yeah.
Offensively, in the second half, did you try to take over or did you feel like the game really came to you?

I think the game came to me. Nolan did a tremendous job. He played like a veteran tonight. He put us on his back in the second half and just knocked down a few big shots.
One of the good spurts tonight came actually when you were on the bench and Andre was out there and Seth too. What did you think about the way some of the other guys stepped up tonight?

Yeah, you know, they played well and applied pressure really well. Butler was working really hard offensively. Yeah, you know, like when I was on the bench, they really picked up the intensity and helped us a lot tonight in valuable minutes. It was big in terms of raising our intensity.
Zagoria: Did you have a lot of family and friends there today?
Yeah.
Zagoria: Do you know how many family and friends were out there? Your dad and everybody else.
No.

Did you get to see him before the game? Obviously, you're coming off of a great game against Michigan State. He must've been very proud of you.
My Dad wasn't at the Michigan St. game, but I'm going to talk to him after I'm done here.
So, you didn't see him before?

No, no, I didn't.
Did you feel any additional pressure playing in front of so many family and friends?

Yeah, I was definitely pressing, particularly in the first half. You know I picked those two charges up in the first half. That was just a mistake on my part, being too aggressive. I don't think I was playing smart there. In the first half, I was really flat until I had those two baskets, but, in the second half, I really came out aggressively.
Can you talk about those back-to-back threes at the top of the key in the second half? It seemed to break their back.
Yeah, well, those were rhythm threes and they felt good.
Zagoria: I know going undefeated this season is a long way to go, but do you feel that, in any game, you can win?
Well, we approach, each game the same way mentally. So, we're just ready for each challenge.
Zagoria: Do you ever look ahead and say, "Oh, this team could beat us here." or do you not look it at it like that?
No, no, we can't do that.
Was there any sort of layoff coming off of that strong win against Michigan State and then making that quick turnaround? Do you think that was the reason for coming out somewhat lethargically?
Not really, I was a little flat in the first half
Not as a team, though?
No.
What changed in the second half?
My energy picked up in the second half. We had a great halftime talk. Coach was (laughing) giving us that halftime speech that we needed.
Can you talk about how good Norad and the other perimeter guys were defensively?

Yeah, they're really good defensively individually, but as a team too. They were trying to clog the lanes in the first half. In the second half, when we started executing our plays, we were able to push them further from the basket.
Can you talk about getting them into foul trouble off of penetration. You got two of their guys into trouble and it sort of forced them to readjust. Was that a goal or did that just sort of happen?

No, Nolan and I just kept trying to attack openings when we would see them.
This building is not just important to you, but for the program. What was it like to come back here and get a win?

feels good. You know, when I landed at Newark airport, this is where I'm from.  So, I love it. I won a state championship here in my junior year You know coming back here feels good.
Walking away, what was the key difference in the second half?
Nolan helped sustain drives and lead in this game.  Nolan was definitely it and our energy picked up. Also, I think our conditioning. We work on it a lot and so I think it helped make a difference for us in the second half. It probably wore them down a little bit in the second half. It really worked for us in the second half, once we started to run.
Did you think of this as a business trip or a homecoming? When you thought about this game, how did you view or approach it?

Oh, every game is business. It's always a business trip for us. I mean it's my hometown, but I try to approach it like every other game, as if it was a home game at Duke.
And what does it mean to have come back here and match up with the same team that took Duke down to the wire in April. Now, eight months later, it didn't have to come down to the wire, but the opponent and the location.
It feels good that I'm now part of the team. When I saw them play, I was just a recruit. Being on the court and playing against a top team like Butler is a great experience.
Did you get a chance to see any of the guys from St. Pat's today?
No, not yet, but I'm sure I'll get a chance right after this.
Thanks, Kyrie.
Sure thing.