Browse:
Home
/
Duke defeats Shaw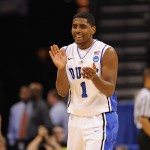 By Mark Watson on November 3, 2011
Blue Devil Nation video was live and on the scene at Cameron Indoor Stadium for the Blue Devils win over Shaw.  I caught up to Kyrie Irving in the locker room for a one on one interview where he spoke of going to sit with the Cameron Crazies with Nolan Smith and Lance Thomas.  I also […]
Posted in Duke Basketball | Tagged BDN, Blue Devil Nation Video, Duke Basketball News, Duke defeats Shaw, Kyrie Irving, Kyrie Irving joins Cameron Crazies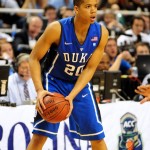 By Mark Watson on November 2, 2011
Andre Dawkins came off the Duke bench knocking down three 3 point shots and ended the game with 12 points and 2 reounds. "He's a veteran, he needs to do that," said Coach Krzyzewski when questioned of what he thought of Dawkins lifting the team.
Posted in Duke Basketball | Tagged Andre Dawkins, Blue Devil Nation Video, Duke Basketball News, Duke defeats Shaw, Mark Watson