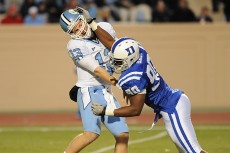 Despite being out gained 519 to 263 yards, the Duke Blue Devils found a way to claw their way back into the game thanks to a Charlie Hatcher safety.  Duke would later score a touchdown on a 6 play 45 yard drive and Brandon Connette's legs to make the score 24-19.  But the games bugaboo, stopping the Tar Heels on 3rd down plays wrecked hopes of getting the ball back and North Carolina ran out the play clock for the win.  You'll see plenty of game stories, so we'll recap the reasons Duke lost.
3rd Down Possessions
Time and time again, Duke failed to stop UNC on 3rd down as the Tar Heels converted 11 of 17 of them.  You simply cannot win with these numbers.  Also tied in here is the fact that Duke allowed too many gains on first down.  After Duke pinned the Heels at their 9 yard line, the Duke defense let up 7 yards on a slant play and a two first downs later, Duke's hope of a comeback win were dashed.
Time of Possession
This is also tied in with the defenses inability to hold steady on 3rd downs.  But it was Duke's offense that was to blame as well for they could not keep drives going and went just 4 for 13 on 3rd down plays.  The final tally was UNC held the ball for 39:33 to 20:27.
No excuses from Cutcliffe
Coach David Cutcliffe was frustrated by his teams play and said that some of them talked the talk but didn't back it up.  He was especially perturbed by the big plays UNC would make to keep drives alive as was Matt Daniels of the Duke secondary.  You can bet that Duke will get back into their off season workouts as soon as possible and after a few weeks on the recruiting trail, Cut and staff will sit down to make some personnel evaluations.
Austin Kelly closes out his Duke career
Kelly lead all Duke receivers with 7 catches for 67 yards and a touchdown, the first one of the game. 
Duke still unable to run on UNC
Duke gained a mere 12 yards for an .8 average.  Duke will try to get more push from their line through off season conditioning and a run game is a must to balance an offense.  Duke came into the game averaging more yards rushing than UNC and left the game behind them for the year.
Duke loses 19 seniors
Duke has 19 senior on the roster and feel that these players helped lay a foundation for the future.  Of the losses, 111 of the seniors played key roles.
Sean Renfree throws for 3000 yards
Renfree's interception free games streak ended at 173 passes but his completion to Cooper Helfet for 6 yards put him in rare air as he is the fifth player in Duke history to pass that mark in a single season.  His 3,131 yards ranks as 3rd on Duke's all time one season passing list.