Browse:
Home
/
Duke Final Four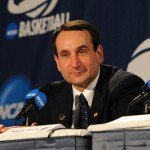 By Mark Watson on March 30, 2010
Well, the Final Four is set and no time was wasted in getting all four coaches together to participate in a call in show.  This is the beginning of an onslaught of national media coverage of the Final Four in Indianapolis and for Krzyzewski, it came just hours after his team got back into Durham […]
Posted in BDN Premium Articles | Tagged Bubby Huggins, Coach K, Duke Final Four, Duke vs West Virginia, Duke-West Virginia Indy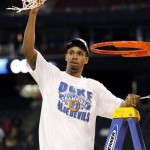 By Mark Watson on March 29, 2010
HOUSTON – A very tired Lance Thomas breathed a sigh of relief in the locker room as he addressed the media with a calm voice.  Thomas said he was at a loss for words and it was obviously an emotional moment for the senior and BDN was there to bring you his thoughts.
Posted in Duke Basketball | Tagged BDN, DUke Baylor post game, Duke Final Four, Duke South Region Champs, Lance Thomas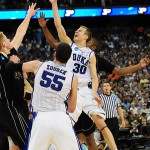 By Mark Watson on March 29, 2010
HOUSTON – A jubilant but tired Jon Scheyer addressed the media after Duke punched their ticket to the Final Four in Indy after an exciting win over Baylor.  BDN was on the scene and a part of those who asked the questions.
Posted in Duke Basketball | Tagged Blue Devil Nation, Duke Final Four, Duke March Madness, Jon Scheyer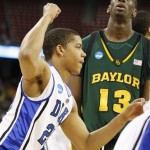 By Mark Watson on March 29, 2010
HOUSTON – BDN continues it's coverage from Houston, Texas, the scene of Duke being crowned Southern Regional Champions after an exciting hard fought win over Baylor.  I caught up with Wojo as the nets were being cut down and as always, he was very composed even after the victory.  I also caught up to Andre […]
Posted in Duke Basketball | Tagged Andre Dawkins, Duke defeats Baylor 78-71, Duke Final Four, Wojo