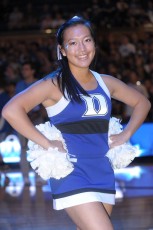 This week BDN Monday Musings discusses the Duke Football and the huge game tomorrow evening for the Duke Men's Basketball team at Ohio State in Columbus.  And of course, we have our cheerleader of the week as well and other tidbits.
Duke at Ohio State, ACC-Big Ten Challenge
I can't remember a season in recent memory where the Blue Devils have played a NCAA tournament like schedule early on.  Tomorrow evening Duke heads to Columbus to face the #2 ranked team in the nation in the Ohio State Buckeyes.  We are talking Jared Sullinger here, a dominant big man and first team All American who spurned the NBA to play for a loaded team.  This may well be a 2 versus 3 match up once the polls come out later today for Duke could leap Syracuse with their big wins and of course #1 North Carolina takes a quick exit from the top spot.  The Blue Devils will have to bring their "A" game to defeat the buckeyes and this will be a big time test for a young team.  During yesterdays press conference, it was clear that the Duke players look forward to the challenge.  The game tips at 9:30 tomorrow and I am sure the entire Blue Devil Nation will be tuned in.
Next year, it's the Bahama's for the Blue Devils
Next Thanksgiving the Duke Men's Basketball team will head to the Bahama's, Paradise Island to be exact for the Battle in Atlantis.  Other teams slated for the affair are Stanford led by Johnny Dawkins, Memphis, Minnesota,  Missouri, Louisville, Northern Iowa and Virginia Commonwealth.  Here is the link for the field.
A November to remember
What a whirlwind of a month it has been for Duke Basketball.  Coach Krzyzewski broke the all time NCAA wins record and he 's still going.  The team itself is an outstanding 7-0 and they'll next face Ohio State in a monster prime time match up.  The only thing missing is a commitment from key prospect Tony Parker.  Well, let's save that for a December to remember.  Seriously, Mr. Parker ... what more could you want than to play for the prime time Duke Blue Devils?
Goodbye Matt Daniels
Of all the seniors on this team, a couple stand out for me.  One is Donovan Varner, the other is Matt Daniels.  It's fun watching Daniels lay down so hits where the opponent gets up with a tatted chest and the senior had a career high 18 tackles against North Carolina.  Duke will sorely miss his leadership and upbeat nature and BDN wishes this young man the best of luck at the next level.  There will never be another Matt Daniels in that he was that unique.
The season is over for Duke Football
If you've been a long time Duke Football fan or even short term for that matter, you are used to disappointment.  Despite being use to that unwanted feeling, it still stings when the team struggles.  At the beginning of the season, I said anything less than 4-8 would be a disappointment and I stick by that as the team finished 3-9.  Losing to Richmond in the opener with a good crowd in the stands set the table early on and this game was a must win in so many ways.  The Blue Devils never recovered from that loss and the Spiders turned out to be a horrible football team.  That game just flat out left a taste in fan's mouths that was hard to get rid of and it still does to this day for me. But Duke did come close in many games and had the ball bounced their way a few times, this team would be going bowling for the first time in over a decade.  Being close to the situation, I can tell you that these kids are all class acts with great character so that is something to be proud of but this is a program where the players need to expect to win and until they do it'll be tough sailing.  The Blue Devils lose some key seniors but return a whole lot of their team next season and add more redshirts.  This past year was the first season with all of Coach Cut's players, so next year Duke will be expected to be better and the schedule will not make that easy where I count, again, 3 games Duke should win.  The other 9, they'll be underdogs in.  Look for a lot of off season talk about Anthony Boone getting more of a shot to compete with senior Sean Renfree and much more.  Duke will be picked last in their division again, so here is to hoping they sneak up on the league and start to round the corner