Browse:
Home
/
Duke Football Report
By Mark Watson on November 28, 2011
This week BDN Monday Musings discusses the Duke Football and the huge game tomorrow evening for the Duke Men's Basketball team at Ohio State in Columbus.  And of course, we have our cheerleader of the week as well and other tidbits. Duke at Ohio State, ACC-Big Ten Challenge I can't remember a season in […]
Posted in Duke Basketball, Duke Football | Tagged Blue Devil Nation, Duke Basketball, Duke Football News, Duke Football Report, Duke vs Ohio State ACC-Big 10 Challenge, espn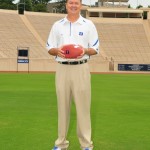 By Patrick Cacchio on August 11, 2011
Duke Football held their media day on Wednesday and BDN was there to hear what Coach David Cutlciffe and his players had to say.  BDN will continue to cover the Duke Camp as they prepare for their season opening home games with Richmond and Stanford.
Posted in Duke Football | Tagged BDN Video, Coach Cut, Cutcliffe on Duke Football, Duke Football Report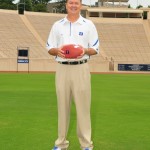 By Mark Watson on September 7, 2010
DURHAM – Duke Coach David Cutcliffe addressed the media today where he talked of the Wake Forest game and the season to date.  Hear the Coach for yourself via BDN Audio. Just press play -
Posted in Duke Football | Tagged Blue Devil Nation, Coach Cutcliffe, Duke Football Report, Duke vs Wake Forest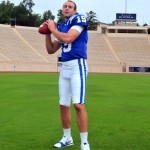 By Mark Watson on August 26, 2010
DURHAM – Duke quarterback Sean Renfree spoke with us media folks after his recent scrimmage where he discussed the Blue Devils progress to date and more.  Hear it for yourself on BDN Audio -
Posted in Duke Football | Tagged BDN, Duke Football News, Duke Football Report, Duke-Elon, Sean Renfree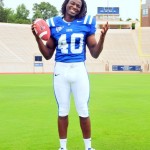 By Mark Watson on August 18, 2010
DURHAM – Defensive back Matt Daniels took time to talk with the media as they gathered for the annual media day event on the campus of Duke University.  Here are his thoughts on several key issues going into the 2010 season. Just press play -
Posted in Duke Football | Tagged Duke Football practice, Duke Football Report, Matt Daniels