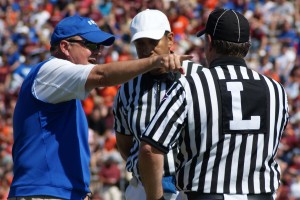 Durham, N.C. - After 9 wins in his first two seasons at Duke, Coach David Cutcliffe and the 2010 Blue Devils will look to become bowl-eligible for the first time since 1994. Do they have the schedule to do it? As spring practices kicks off, BDN takes a first look at the 2010 Duke football schedule.
The Blue Devils return 40 lettermen, including 18 starters, from 2009's 5-7 team, which finished in 4th place in the ACC Coastal Division. Season tickets are on sale now for Duke's 7 home games in 2010 and can be purchased online at GoDuke.com or by calling (877) 375-3853.
The 2010 Blue Devils will play 7 of their 12 regular season games at Wallace Wade Stadium, highlighted by a September match-up with Coach David Cutcliffe's alma mater and reigning BCS National Champion, Alabama. Seven of Duke's 2010 opponents were bowl-eligible in 2009, including two BCS bowl teams in Georgia Tech and Alabama. Duke's lone FCS opponent, Elon, finished the season at 9-3 and was invited to the FCS playoffs, where they lost to Richmond, 16-13. Overall, Duke's 2010 opponents were 94-60 in 2009, which represents the third toughest 2010 schedule in the ACC.
September 4:Elon (2009: 9-3, 2nd place in Southern Conference, lost in 1st round of FCS playoffs to Richmond, 16-13)
The Phoenix will make the short trip up I-85 to Durham to kick-off the 2010 season. Elon is coming off the program's first ever FCS playoff invitation in 2009, in head coach Pete Lembo's fourth year with the program. The Phoenix finished 2009 ranked in the FCS top 10, but lost several key players from the team that finished second in the Southern Conference, including WR Terrell Hudgins, who was runner-up for the Walter Payton Award in his outstanding senior campaign (123 receptions, 1633 yards). Scott Riddle returns for his senior year as the team's quarterback, and junior RB Jamal Shuman returns after an impressive sophomore campaign during which he averaged 5.1 yards per carry. The Phoenix do lose several key seniors on both the offensive and defensive lines, so question marks will exist heading into the season opener. Elon fell at Wake Forest last season, 35-7, in the team's only game against an FBS opponent. Elon represents a quality FCS opponent, and one that the Devils will need to defeat to start off the 2010 season on the right track.
September 11: @ Wake Forest (2009: 5-7, 3-5 ACC)
Duke kicks off the 2010 ACC schedule early, with a rematch of last year's season finale against Wake Forest. The Demon Deacons defeated the Blue Devils on Senior Day in Wallace Wade Stadium, 45-34. While that game served as a celebration of the storied careers of senior QBs Thaddeus Lewis and Riley Skinner, this year both programs will start the season with question marks under center. The Demon Deacons lose 9 starters and return 49 lettermen from the 2009 team. Both the Devils and Demon Deacons will kick off the year against FCS programs in Week 1, thus this matchup will likely be the first true test for their young signal-callers and other new faces in 2010. Jim Grobe is 9-0 against Duke in his career at Wake Forest, though the two teams have produced some memorable games in recent years. Expect Grobe to have his team ready to play the Blue Devils after their opening Thursday night match-up with Presbyterian. This will be an important early season test for the young Blue Devils on the road.
September 18: Alabama (2009: 14-0, 8-0 SEC)
This game may already be the hottest ticket in Wallace Wade Stadium since the Rolling Stones a few years ago. The Crimson Tide faithful will try to be out in full force to see their reigning National Champions and Heisman trophy winner. It's important for the Blue Devils to have a good turnout both on and off the field in this one (plug: get your season tickets now), as this will be one of the highest attended and most covered games in recent Duke history. Alabama will, of course, be the heavy favorite in this matchup, but you can bet Coach David Cutcliffe will have a few tricks up his sleeve for his alma mater and SEC power. The Crimson Tide will be coming off a big home game against Penn State in Week 2, and they'll have to avoid a letdown against a fired up Duke team. There are several terrific storylines here: from Wallace Wade, whose statue stands outside the stadiums at both Duke and Alabama, to David Cutcliffe squaring off with his alma mater, to the appearance of a reigning national champion and Heisman trophy winner in Wallace Wade Stadium. You can be sure BDN will have lots more coverage on this game between now and September 18, so stay tuned and get your tickets now.
September 25:  Army (2009: 5-7)
Army fell just short of a bowl bid in their first year under head coach Rich Ellerson and his option offense. In a Week 2 match-up at West Point last season, Duke defeated Army 35-19, behind the arm of QB Sean Renfree and the clutch play of CB Leon Wright. This will be the first of three match-ups against the option offense for Duke in 2010, and it will be important for the young Blue Devils to stay disciplined and focused after a much-hyped Alabama game. This is a game that Duke will need to win to improve their chance for a bowl bid, but Army will have revenge on their mind after last year's loss at West Point, and likely will have some momentum coming off two home games in Weeks 2 and 3.
October 2: @ Maryland (2009: 2-10, 1-7 ACC)
Not much went right for the Terrapins in 2009, including a 17-13 loss in rainy Wallace Wade Stadium in late October. Coach Ralph Friedgen will be on the hot seat in 2010, and while a return to bowl eligibility might be a stretch for the 2010 Terrapins, you can expect them to be a much improved team. The Terrapins will have a new signal caller in 2010, along with some new faces on both the offensive and defensive lines. The growth of these young players may determine the Terrapins' success, and the fate of the coaching staff. The Terps are fortunate to have a relatively easy start to their schedule, with a road match-up at West Virginia in Week 3 as their biggest early-season test. This will be the Blue Devils' first trip to College Park under Coach David Cutcliffe and, as we know, they will not be greeted kindly.
October 9 Open
The Blue Devils open date again falls in the middle of their season in 2010. They will have already played 2 ACC games in the first five weeks, both on the road. With regards to bowl eligibility, the Blue Devils would be wise to enter the bye week with at least a 3-2, if not 4-1, record. The first half of the schedule includes only 1 FBS 2009 Bowl team (albeit, the National Champions), but the second half includes 6 FBS 2009 Bowl teams. The Blue Devils will finish the year with 4 ACC home games, 2 ACC road games, and a non-conference road match-up with Navy.
Part 2 will be out next week - bookmark Blue Devil Nation for your next Duke Football coverage fix