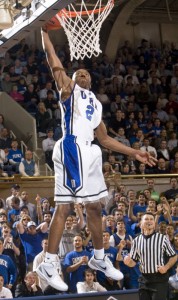 Game 14
[5 AP/5 Coaches] Duke (12-1, 1-0 ACC) vs. Iowa State (10-3, 0-0 Big 12)
Wednesday, Jan. 6, 2010  •  9:00 p.m.  •  espn2
United Center (20,917)  •  Chicago, Ill.
The Opening Tip
Duke (12-1, 1-0 ACC), ranked fifth in the AP poll and ESPN/USA Today Coaches' Poll, faces Iowa State (10-3, 0-0 Big 12) at the United Center in Chicago, Ill., on Wednesday, Jan. 6 at 9:00 p.m. (EST). Wednesday's game will air on espn2 with Dave O'Brien and Jay Bilas calling the action.
The Last Time Out
Duke posted a 74-53 win over Clemson on Sunday in the ACC opener for both schools. The Blue Devils jumped out to a 30-12 lead by limiting Clemson to 16.7 percent (5-of-30) shooting in the opening 20 minutes of play.
Nolan Smith posted his fifth 20-point game of the season with 22 points on 7-of-11 shooting from the field. Senior Jon Scheyer also had 22 points to go along with six assists and three steals. He knocked down three three-point field goals in the game and now has an ACC-best 37 threes on the year. Junior Kyle Singler added 16 points and a game-high eight rebounds as Duke outrebounded the Tigers, 33-29, for the game.
The Blue Devils forced more turnovers (17) than Clemson had field goals (16) on Sunday. Duke also shot 50 percent (24-of-48) from the field in the contest en route to its third win over a ranked opponent.
Krzyzewski Back Home in Chicago
Head coach Mike Krzyzewski has led the Blue Devils to a 10-1 record in the Chicago area, including a 6-0 mark at the United Center. Duke has won six straight games in Chicago.
Numbers Game
l Duke has won 21 of its last 22 games in the month of January.  The Blue Devils are 200-55 under Mike Krzyzewski in January games.
l Duke is 20-4 against teams currently in the Big 12, including a 19-3 mark under Mike Krzyzewski. The Blue Devils have won four straight against the Big 12.
l Senior Jon Scheyer leads the NCAA in assist-to-turnover ratio (4.88:1) while playing 35.1 minutes per game. He has led Duke in assists in all 13 games with six turnover-free games. Scheyer also ranks eighth in the NCAA at 6.4 assists per game.
l Nolan Smith has 23 three-point field goals and is shooting an ACC-best 51.1 percent from three-point range. Smith entered the season as a 36.2 percent (49-of-135) from behind the arc.
l Brian Zoubek is 20-of-23 (.870) from the field over the last six games. He leads the Blue Devils in field goal percentage at .679.
l Jon Scheyer is averaging 22.3 points, 4.2 rebounds and 7.8 assists per game during Duke's current six-game win streak. He is shooting 47.9 percent from three-point range and averaging 3.8 three-point field goals per game in that span.
l Junior Nolan Smith has scored 10 or more points in all 11 games he has played. He is averaging 18.4 points per game, a 10.0 ppg. increase from a year ago. Smith also has five 20-point efforts in 2009-10 after posting one 20-point game in his first two seasons at Duke.
l Jon Scheyer and Nolan Smith are averaging 41.5 points combined, while shooting 51.6 percent (80-of-155) from the field and 53.5 percent (38-of-71) from three-point range during Duke's six-game win streak.
l The trio of Jon Scheyer (22), Nolan Smith (22) and Kyle Singler combined for 81.1 percent (60 of 74 points) of Duke's scoring output in Sunday's win over Clemson.
l Duke has had 15 individual 20-point scoring games this season. The Blue Devils have had multiple 20-point scorers in the same game five times on the year.
l Junior Kyle Singler has led Duke in rebounding six times in 2009-10 and 42 times in his career. He has grabbed five or more rebounds in 68 of 84 career games.
l Wednesday marks the 70th birthday of Cameron Indoor Stadium. The building opened on Jan. 6, 1940 with a 36-27 Duke win over Princeton.