[private]The Duke Women won their opener over a pesky Oklahoma State team, led by All American candidate Andre Riley.   To say it was a tale of two half's would be appropriate in that Duke went into the locker room trailing 44-35, their heads still spinning from Rileys speed to the bucket where she tallied 20 points.
Duke was shooting but 33.3% at the break and a paltry 1 of 11 from the three point stripe didn't help.  The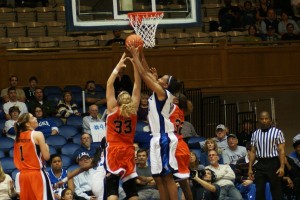 Cowgirls had also stayed even with the Blue Devils on the boards, not to mention just two successful perimeter shots.  In short, it looked as if the 14th rated team from the Big Twelve was poised to spoil the evening for the 6000 fans in the stands. 
Those fans made their way to Cameron thorough a downpour of rain and it seemed to continue early on.  But the rains stopped at the start of the second half and Duke's fortunes did as well.  Once the weather cleared from the first half storm, Coach McCallie righted the ship.
The main move she made was to go to the zone and back off the press which Riley had moved through with ease.  The Dukies also made it a point to get the ball to their star front court player, senior Chante Black who would score 18 second half points on her way to a career high 28 points to go with 10 boards.
It was essential that Duke got the ball on the blocks, in that their starting guards of Waner and Thomas struggled on the evening with 5 of 29 from the field.  Despite the off night, each of the them hit huge three pointers in an amazing second half run.
Cheek started the rally with a three, but Shuante Smith made a quick lay up and it looked as if the game would go much like the first half did.  At the 18:32 mark, a royal blue storm took over as the Devils erupted to the delight of Cameron fans.  When the dust started to clear, Duke had gone on a 20 to 1 run to take a 58-46 lead.
It was the kind of comeback that made one realize how fortunate they were to have witnessed the thrilling turnabout.  The Duke zone stifled the Cowgirls and Riley scored just nine second half points, but to their credit, they never gave up.
The Blue Devils outscored their opponent 42-24 in part due to stellar defense where they eliminated the backdoor lay ups.  But the real culprit is that the Devils dominated the boards 34-20 after the break.   Careem Gay led the way with11 rebounds and it's worth noting that her first half offense kept the Devils close going into the half.
The win was the 18th straight home opener.  Duke will host Maine on Sunday at 12:00 in Cameron and tickets are available.  Check back later this evening for more coverage from this game.[/private]