[private]Joanne P. McCallie had an aura of confidence when she addressed the media on Wednesday.  It was clear that the second year coach was more relaxed and at ease after having a year under her belt.  Just last year, McCallie replaced another popular coach in Gail Goestenkors.
That transition wasn't always easy.  She had to gain the confidence of players she didn't recruit and
fend off a lot of early negativity from some of the media who were faithful to the former regime.  "You have to remember, we lost Lindsey Harding and Allison Bales," quipped McCallie.  You know what?  She has a point there in that these were two super players and were the team leaders.
The Blue Devils still managed a 25-10 record, 10-4 in the ACC which was good for third place.   A lot of that success was due to the stellar play of Chante Black, a 6-5 paint eating front court player.  Black is but one part of many story line in the coming season.  In fact, there are many to watch as the season develops.
The Off Season- McCallie said that here team worked really hard over the summer with all of the players sticking around.  They lifted weights and played pick ups in the new practice facility.  "We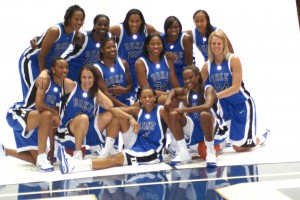 are more together than at this time last year," said McCallie.  The team and staff had to adjust to one another last season, not to mention take a already scheduled trip to Russia which made for some tired legs early on.  Many of the players stated they felt as if their play wasn't up to Duke Basketball standards last season.  There seems to be a little bit of a chip on their shoulder going into the season.
The Seniors- Black will step into her senior season and she wants to go out on top.  She is joined by Careem Gay who has started 45 games over the last two years.  Then there is perennial crowd favorite, Abby Waner.  This talented trio will be the main focus point in that their leadership should carry the Blue Devils farther into the NCAA Tournament and maybe even the Final Four.
There will be no shortage of emotion when Black, Gay and Waner play there last game against North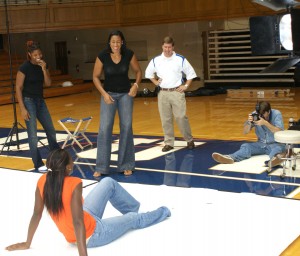 Carolina in Cameron on March 1st.  You better go ahead and get your tickets now for that one in that the Blue Devils have sold around 4800 season tickets to date.
The Juniors- The junior class is also providing leadership.  Joy Cheek is poised for a banner season and Coach McCallie has already tapped her as a captain for next season.  Kenturah Jackson and Bridgette Mitchell will look to take on a  bigger role as well.
The Sophomores-The sophomore class is intriguing as well.  Jasmine Thomas has a nice skill set as does Karima  Christmas.  Add watching the development of these two youngsters as yet another story line.  "Jazz will assume the role of PG for us and we expect some natural progresion from her freshman to sophomore year,"
The Freshman- The freshman class of Kathleen Scheer, Shay Selby and Chelsea Hopkins look to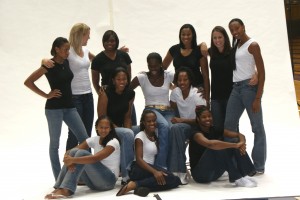 make their mark as well.  Selby is the closest to being ready, but there is a steep learning curve for freshman at this time of the season and Coach McCallie will likely b ring each of them along slowly.  "None of the three are playing good defense.  Most of them are accustomed to being the star on their high school team, so they must adjust to playing all facets of the game, namely defense.  I've asked them to specialize in one area - do one thing good." 
The Style- It will all start on the defensive end for these women.  That sounds familiar, huh?  Well the cornerstone of this program is tough man to man defense.  McCallie will demand all out effort in this area and those who lag will likely find themselves playing less.  The philosophyseems to be if you play good "D" the offense will come.  "We want to do what we do," said McCallie.  On offense she feels he players will get better reads on the opposing defenses this system and that will enable them to find the open player.  "We take pride in our defense - pride in making the stop."
The Rotation- Look for Cheek, Waner, Black and Thomas to start this season.  The first players off the bench will be Thomas, Christmas, Jackson and Mitchell.  The order will depend upon match ups.  Don't look for a lot of minutes from the freshman.  Selby will get the first call of the three.
The Opener - #14 Okalhoma State at #8 Duke -(Friday, 7:00, tickets available) Get there early for the festivities which are geared towards a good family outing.  There will be face painters, free food, a magician and posters just to name a few of the "free" perks.  All of this starts at 5:00 in Card Gym which is adjacent to Cameron Indoor Stadium.
Oklahoma State is Coached by Kurt Budke who holds an outstanding 406-88 record in 15 years of coaching.  OSU's last road game also came against the No. 8 team in the country as the Cowgirls won at Baylor, 72-68, to close out the regular season a year ago ... Andrea Riley is nine points shy of 1,200 for her career, while Shaunte' Smith is one shy of the 800-point plateau.  Riley is their top player
Additional Notes- McCallie will have her own radio show this season.  You can hear her today from 12 to 1:00 pm on 620 the Bull.  The show will be broadcast from Satisfactions in Brightleafe Square.
- Chante Black is on the Wooden list as the top 30 pre season college players in the nation.
- You can view the home opener on ACC.Select.com
- Chante Black is fifth in rebound avaerage and 12th in blocks on the Duke All Time list.
- Abby Waner enters the season fourth in three point field goals and fifth in steals
- Duke will play again on Sunday at 12:00 noon versus Maine.  It's a rare time when botht he men's and women's team plays on the same day.  The men face Rhode Island.
* We accidentily printed the draft earlier which had numerous typo's.  Sorry about that![/private]