Browse:
Home
/
Duke Sweet 16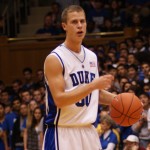 By Mark Watson on March 26, 2010
HOUSTON – The national media was just short of brutal yesterday afternoon when asking Jon Scheyer about his recent shooting slump and about Duke's in ability to get pat the sweet 16.  How bad were the questions, well, one Duke player was overheard saying that was some of the stupidest questions I've ever heard.  Despite […]
Posted in Duke Basketball | Tagged BDN, Blue Devil Nation, Duke faces Purdue, Duke Sweet 16, Jon Scheyer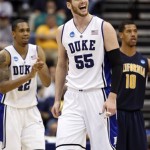 By Mark Watson on March 21, 2010
JACKSONVILLE, Fla.- BDN brings you Brian Zoubek's locker room comments.  Zoubs had a double-double of 14 points and 13 rebounds. Just press play – We are headed back to North Carolina and will post four more interviews around mid day, so please check back into the Blue Devil Nation.
Posted in Duke Basketball | Tagged BDN, Brian Zoubek, Duke Sweet 16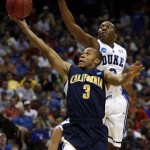 By Mark Watson on March 21, 2010
JACKSONVILLE, Fla. – Nolan Smith helped lead Duke to a 68-53 win over California by scoring 20 points and playing solid defense on the Cal guards.  BDN is on the scene in Jacksonville and here is Nolan's post game comments that you will not see on local television. Just press play -
Posted in Duke Basketball | Tagged Blue Devil Nation, Dke defeats California, Duke Sweet 16, Nolan Smith