DURHAM -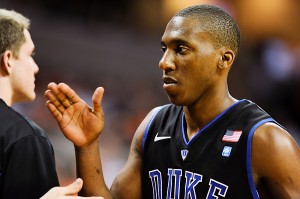 The Duke Blue Devils came out of the gate a bit slow after anticipating Georgia Tech would play it's big lineup.  Instead the Yellow Jackets played a smaller, quicker line up and had some success. with it.  After some adjustments Duke settled in and walloped the visitors by a 79-57 score.  It was a rough and tumble first half but the refs managed to keep the game from getting out of hand but that didn't stop Coach Mike Krzyzewski from getting his first technical foul of the season. 
That fired Duke up and they went on a tear, breaking open a close game as the half came to an end.  Once again Duke was led by Nolan Smith who dropped a game high 28 points on a variety of moves.  Smith grabbed 7 rebounds from his guard position as well and added 4 assists to his total.  Fellow senior, Kyle Singler, added 15 points and 9 rebounds.
The Blue Devils were strong in the post as well where they outscored the Yellow Jackets 40-24 and they held a 21-4 edge in second chance points.  Despite fouling out, Mason Plumlee scored 9 points to go with his 9 boards as he continues to be good on the glass.  Ryan Kelly added 10 points and 6 rebounds and both players earned Coach Krzyzewski's praise.
"The big guys keep getting better.  You get better if you want to get better," said Krzyzewski after his 994th career victory.  He continued by saying, "Mason and Ryan had good games and our defense continues to improve."
Seth Curry also continued his solid play of late, garnering a team high 6 assists to go with his 9 points.  Freshman Tyler Thornton helped with 6 points while draining 4 straight free throws.
In the end Duke won with defense and the effort may well have been enough for them to regain the nations top spot in the polls due tomorrow.  Duke will face a very solid Temple team next this coming Wednesday evening.  Duke pushes their season record to 12-1 in the ACC which is good enough for first place and 25-2 overall.
Sidebar -Ryan Kelly scored in double figures for the seventh time this season.  Seth Curry's 6 assists were a career high.  Duke has won 34 straight home games.  Duke is 15-0 at home on the season with two games remaining.  Singler has started in 95 consecutive games.  Mason is up to 10.2 rebounds per game in ACC play.  Nolan has 20 or more points in 16 games, tops in the ACC. Smith passed Bobby Hurley on the Blue Devils All Time Scoring list.  Duke has won 25 or more games in 24th time in school history.