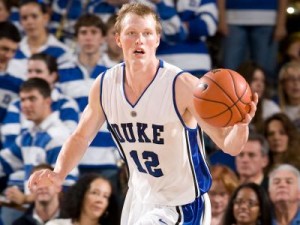 It looked as if Miami were about to spring an upset on the sixth rated Duke Blue Devils as they carried a 37-25 lead into the locker room.  But then Krzyzewski turned to a veteran line-up and the Blue Devils outscored Miami in the second half by a 56-37 margin and Duke came away with a 81-74 victory.
Kyle Singler led the Duke comeback and he finished the contest with 22 points, 11 rebounds, and a team high 7 assists.   Nolan Smith warmed up in the second half as well, adding 21 points.
The win helped push Duke's record to 10-2 in the Atlantic Coast Conference and 22-4 overall.  Duke remains in first place in the conference going into a showdown with Virginia Tech, currently second in the standings, this Sunday evening.
Jon Scheyer was held scoreless in the first half, but the senior kept shooting and ended the game with 15 points and  6 assists.
Brian Zoubek had another solid performance scoring 10 points and grabbing 5 rebounds, but what doesn't show in the box score is how well he was moving on offense, setting picks and the like.
After an icy first half from the field, the Blue Devils warmed up and swarmed the Hurricanes in the second half.  A huge difference was Duke's effectiveness from the three point arc, where they hit 13 out of 29.
Duke was also solid from the free throw stripe, hitting 18 of 22, most of them coming in the second half.  The Blue Devils continue to lead the league in free throw percentage.
It was a solid win for Duke in that they almost fell into a trap and willed their way out of it which is the mark of a veteran team.
More to come -
Game Notes, courtesy GoDuke.com -

- Duke has now won 12 of the last 13 meetings with Miami, owning an 8-1 record since the Hurricanes joined the ACC in 2005.
- The Blue Devils earned their 10th ACC victory of the season, improving to 10-2. They have now won at least 10 games in conference play in 13 of the last 14 seasons and in 18 of the 30 seasons under Mike Krzyzewski.
- Duke is now 4-2 on the road in conference play, the only team in the league with a winning record on the road against ACC competition.
- Four players reached double figures in scoring, marking the 15th game this season Duke has had four or more players score at least 10 points.
Player Notes:
- Senior Jon Scheyer has started in 33 consecutive games and in 94 career contests.
- Scheyer recorded his 101st career game with 10 or more points. He has scored 10 or more points in 25 of the 26 games on the year. All 11 of his points came in the second half.
- Scheyer extended his streak to 19 consecutive games with a made three-point field goal and leads the team with 73 treys this season.
- The three three-point field goals give Scheyer four straight games with at least three treys and 15 games overall.
- With six assists Scheyer has dished out five or more in 17 games on the year.
- Scheyer matched a career high with five steals, the third time in his career he has had five in a game. He also had five earlier this season against Georgetown and against Georgia Tech his freshman year.
- Junior Kyle Singler extended his consecutive starts streak to 54 games and has now started in 98 career contests.
- Singler recorded his fourth double-double of the season and 17th of his career. Three of his four double-doubles this year have come in conference play.
- Singler reached the 20-point mark for the eighth time this season and fifth time in conference play. He reached double figures in scoring for the 23rd time this season and 82nd time in his career.
- Singler pulled down a team-high 10 rebounds, giving him five games on the year with 10 or more boards. He has three double-figure rebounding games in ACC play.
- With four made three-point field goals Singler has had three or more treys in eight games this season.
- The four assists give Singler over 200 in his career, as he becomes one of 37 players in school history with at least 200 assists.
- Junior Nolan Smith posted his 11th game with at least 20 points this season, including six against ACC competition. He has scored at least 10 points in 23 games this season and 46 career games.
- Smith connected on a career-high five three-point field goals for his fifth game this season with at least three treys and first since he was 4-of-5 against Pennsylvania on Dec. 31. In his previous 13 games, he was shooting .302 (13-of-43) from deep. He had made four treys in a game three times in his career.
- Senior Brian Zoubek notched his sixth double-figure scoring game this season to go along with five rebounds. In his two starts this season, he is averaging 13.0 points and 11.0 rebounds per game.
- Zoubek recorded a career-high five steals, passing his previous best of three against Virginia Tech on Jan. 4, 2009. His previous season high was two steals against UNC Greensboro in the season opener