[private]First of all, the BDN Team of Bob, Susan and myself would like to wish you all a Merry Christmas and Happy Holidays!  While I know many of you are traveling and or are enjoying time with your family, Istill want to bring you a few Holiday thanks and well wishes.  I hope you take the time to read our Christmas and Holiday well wishes to everyone from the Duke Band to Coach K!
I would like to thank our premium members and daily readers who make up the Blue Devil Nation.  We, at BDN, feel that all of us make up the Nation and we continue to expand that community.  Our members allow us to keep the BDN going and in return we try to give them the best inside coverage available.  Without subscribers, we couldn't bring our coverage to the rest of the Duke Community and make no mistake, we need that support.
Let's put a special emphasis on Coach K, who continues his success with his juggernaut program.  He helped give the whole country a Gold Medal and continues to be a steward for the game itself.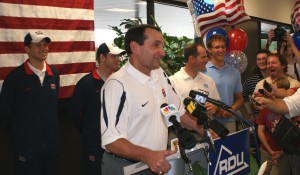 You have given us so many wonderful memories and thanks for letting us share the ride.  We are very fortunate to have Mike Krzyzewski at the helm.   We wish his entire clan, dogs and all the best!
I would like to also think the fine staff under him.  Our best to Chris Collins,Steve Wojciechowski, Nate James, Chris Carawell and their families!.  Collins and Wojo are some of the hardest working and most dedicated coaches in the game and we need to enjoy them while they're here for programs will soon come knocking.  It's comforting to see you guys on the sidelines.
Nobody was happier than me when Nate and Chris joined the program.  Nate is an articulate young man who will suceed at this level and Chris has a desire to succeed that will serve him as well.  The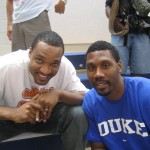 BDN will soon have an article up on their Basketball Clinic where our members and supporters allowed us to send kids to their camp from lesser fortunate backgrounds.  Welcome to the program guys!
Then there are the Duke Men's Basketball players.  Thanks a lot for building new memories for us fans and representing the program with the utmost dignity and spirit.  As fans, we look forward to the rest of the season and we back you all thick and thin. Thanks to Paulus for his amazing leadership and Singler for is amazing knowledge of the game, Henderson for his athleticism and help defense, Scheyer for his hard work in the off season, Zoubs for his resilient play, McClure for his fighting through injuries to become a key contributor, Smith for him taking on the role of a leader, Thomas for his tenacity, Pocius, Johnson, Davidson,  Williams, Plumlee and Czyz for being on the best team in America.
Let's not forget Coach P and her group of fine young women.  The Duke Women's Basketball team has had a run of recent victories and the best is yet to come!  The BDN enjoys covering their games and looks forward to the senior season ahead for Abby, Chante and Careem.  Go out there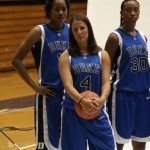 and make some memories girls!  We'd also like to thank SID Lindy Brown for making our coverage possible.  He's one of the nicest guys you will ever meet.
That brings us to Duke Football Coach David Cutcliffe!  We at the BDN hope you take a much needed break from your hard work on and off the field to enjoy time with your family.  It's been a pleasure getting to know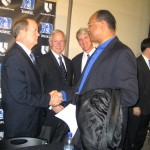 you and your staff this season and as a football fan, I would like to thank you for letting Duke fans and myself know you'll get the job done.   You have assembled a great staff and I want to give them all a Holiday shout out, from OC Kurt Roper to Ethan Johnson, you all make up a heck of a family.  Oh, and those in the office too, led by my pal Peggy.
I would like to also wish happy holidays to all the players who worked so hard with a special emphasis to three outstanding seniors who led both side of the ball in Michael Tauiliili and Cameron Goldberg and Eron Riley.
Warm "Holiday Wishes," to new Athletic Director and Vice President Kevin White as well.  You have been a wonderful addition for Duke University and your leadership skills and vision will serve us all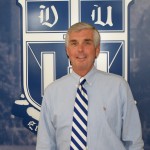 well.  Seeing how you are so hands on during our coverage is more than just a little encouraging.
I wish Mike Cragg a continued and speedy recovery from his recent surgery.  Cragg is a good guy and he serves Duke well which includes a lot more than his work with the Legacy Fund.
Another shout out for a safe holiday to our spirited and lovely Duke Cheerleaders.  While you may seem under appreciated, I'd like you to know that you gals have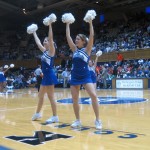 been BDN's most popular photo gallery.  And we'll have that gallery back up soon.  You will always be recognized by the Blue Devil Nation as will the ...
Duke Band!  Thanks for all of your hard work and spirit!  Having met some of you, I can tell the Nation that you are some fine young men and women.  The teams and fans need you!  GTHC!
And lest we forget the best mascot in America - the Blue Devil!
The Cameron Crazies and Wade Wacko's!  Thanks for you current past and continued support.  Your importance cannot be understated.  That said, go home, rest up and celebrate with friends and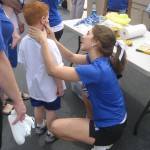 family.  Then come back and cheer hard.
The best of the Holidays to my friends and Knights of the Round Table during media events, Jim Sumner, Bill Brill, Bob Harris and Al Featherston.  It's always nice to rub elbows with you guys.  A special thanks to John Roth as well for his hard work for Duke and the opportunities he's allowed me.
And warm wishes to my network of sources who if I mentioned you all, everybody would use you;)  Thanks for the information and working together.
Hope the Duke Sports Information Department Team has a nice break themselves.  And let's not forget Frank Dascenzo who keeps me entertained with his memories.  There are many others, [/private]