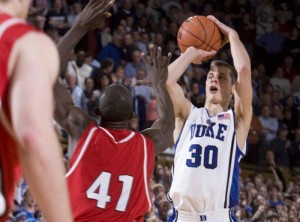 Boston, MA Many have said that Duke and Villanova mirror each other and a quick look at the rosters and stats certainly add validity.  The two schools have eerily similar stats when you look at their scoring averages on both offense and defense.  They both play with no true big man and neither team goes deep into their bench.
Without continuing with tireless comparisons, let's just say these are two great basketball programs, each of which is competitive and equally hungry.  
Each team is more than just a little familiar wth the other.  Coach Krzyzewski and Jay Wright have both worked with USA Basketball and each of them depends on a version of the motion offense and pressure defense when needed.
The players have played together in AAU ball, some even talking to this day over the phone lines.  The two schools have even recruited the same players out of high school and one recent transfer Taylor King, may be dropping hints of how to stop his former teammates after transferring.
When I look at Villanova's losses, I see no bad losses.  Like Duke, they had a "bad road game," where  Clemson and West Virginia blew tonights opponents out, but that was a rarity. 
They have both played Georgetown once and each won a close game and Duke has a win over Texas to get to the Sweet 16, while the Wildcats (28-7)  lost an early season affair with he Longhorns.  Both own wins over Rhode Island, but the Wildcats enjoyed a much more comfortable margin on a neutral court while Duke won a nail-biter at home.
Villanova's only other losses were to #1 ranked Louisville (twice), UConn and Marquette.  On the plus side of the ledger, they swept Syracuse and have a win over #3 Pittsburgh in their only meeting, 2 wins over Marquette among others.  
The Wildcats may have played their best game of the season in their 89-69 blowout win over UCLA to advance to tonights game.  That's the same Ben Howland team that prides itself on their defense.  The game was so physical that Bruins were openly complaining after the contest.
Villanova essentially has seven starters and one reserve which gets minutes in Antonio Pena who adds about 5 points and 5 boards per game.  They come off the bench with the "Two Corey's," Fisher (6-1 guard 10.9 ppg) and Stokes (6-5 swing 9.7 ppg, 3.4 rpg).  Both of these kids are serous players capable of putting on streaky performances.
They start a long line up which includes, Dwayne Anderson (6-6 BF 8.8 ppg, 6.0 rpg), Shane Clark (6-7 SF 5,4 ppg, 3.8 rpg) and Dante Cunningham (6-8 Post F 16.3 ppg, 7.3 rpg) up front.  These three guys are all seniors and provide toughness and leadership, with Cunningham being the best of the springy bunch.
While Duke has rebounded the ball well this season, Villanova has done an even better job on the boards.  Their quickness to the ball will have to be matched with desire on the Blue Devils end.
Scottie Reynolds (6-2 PG 15.1 ppg) is the Wildcats leader and he is an explosive player who teams with Reggie Redding (6-5 SG 6.9 ppg, 4.8 rpg) in the back court.  While the starting line up has size, they are most dangerous when Fisher is added to the mix in a three guard set.
In short, Villanova can mix and match their line up in an almost interchangeable way.  When their three point shot is falling like it was against UCLA, they're almost impossible to beat.  In fact, they are 18-1 when they score 75 or more points this season and average 84.5 ppg in the tournament thus far.
The last time Duke was in Boston, they lost to Boston College in a game that caused a shake up in the line up. Duke went on to win 10 of it's last 11 games. and has stuck with Elliot Williams (4.2 ppg) as a starter.
Williams, of course, has provided good on ball defense, but has struggled a bit of late with the three point stroke and free throws.  A good performance by the talented freshman would go a long ways towards helping Duke to a victory.
While Williams was a shot in the arm eleven games ago, Nolan Smith (8.5 ppg) has taken on that role of late.  Smith has looked calm, cool and collected with his play of late.  There is no doubt that playing the off guard has helped there and he has seemingly found his role on this years team.  It is very important that Smith continues with his consistency of late against a talented back court.
It's no secret that the "Big Three." of Gerald Henderson, Kyle Singler and Jon Scheyer must be on their "A" game for the Blue Devils to continue their journey and land in the final eight.
Scheyer (14.9 ppg, .8 apg) has been fabulous since taking over the point, but look for the Wildcats to really try and get in his grill early on.  If this happens, he will need to find his teammates for open shots or cutting towards the baskets.  He will then be able to have the ball kicked back out which will hopefully get him an open shot.
Kyle Singler (16.5 ppg, 7.7 rpg) has shown an incredible all around game all season long and that must continue.  Singler will be an important factor on the boards and if he is able to build on his recent success from the three point stripe, he will be a match up problem for the Cat's.
The most important player on the floor for Duke, could be Gerald Henderson.  If you have been reading any stories leading into the game, you know that he grew up in the backyard of Villanova and was recruited heavily by Jay Wright.
Henderson (16.8 ppg, 4.8 rpg) has the ability to take over games, but you can bet that he will be challenged every step of the way tonight.  Many eyes will be on the Henderson to see how he reacts and if he tries to take too much on himself.
But for Duke to really succeed, they will need players to step up.  One of those players could be Lance Thomas (5,4 ppg, 3.6 rpg).  Thomas has had a couple of good games in a row, but hitting the boards tonight would be more than just a little timely.
Then Duke will look to get some production off the bench from David McClure, Brian Zoubek and Greg Paulus.  McClure is likely to get the bulk of the minutes due to match up problems, but foul trouble could make Krzyzewski go a bit deeper than usual.
Okay, enough rambling, it's time for a pick.  IMO, this game could go either way, but if Duke is hitting the three, then I feel they'll slip past the pesky Wildcats.  There is a little pressure on me after picking Duke 75-70 over Texas where they won 74-69 and I doubt I can reproduce that again.
This will be a game of runs and a few lead changes where each team will leave it all on the court.  The pick here is Duke 74 Villanova 72