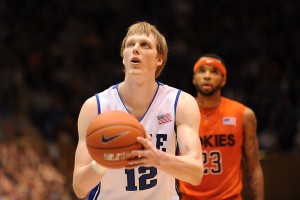 JACKSONVILLE, Fla. - Duke will be looking to punch their ticket to the Sweet 16 with a win over California but a trio of three point shooters lie in their way.  Make that a that a trio and former Duke player Jamal Boykin.  The Golden Bears have already knocked off one of the nations top programs in Louisville and now they are chomping at the bit to slay Duke.
California Coach Mike Montgomery will send four senior starters into battle, so they do have experience and that generally makes for a tough out.  Make no mistake, California is still seeking to make a name for itself and a win over Duke would make their season regardless of what happens after.
Montgomery has been quick to elude to the fact that he has coached twice against Mike Krzyzewski.  He stops short of saying he won both games but the implication is seemingly there.  For what it's worth, both coaches have been verbally pleasant to one another in press conferences.
One of Montgomery's strategies has been to have his team pumped up to hit the other team in the mouth.  That's what happened when Louisville went down by a score of 24-6 before they realized what hit them.  The Golden Bears blitzed Louisville at the start of the game and they closed it out by holding the Cardinals to mere two points in the last 6:37 of the game.
Keep in mind that game was more of a home game for Louisville in that their fans traveled well.  In short, California certainly didn't look like an eight seed with their convincing win and with Washington winning again as well, the PAC 10 doesn't look so bad now, does it?
The Bears have 4 double figure scorers starting with the aforementioned Boykin [11.0 ppg, 6.6 rpg] and fellow senior Patrick Christopher [16.0 ppg, 5.5 rpg].  Then there is there is Theo Robertson [14.4 ppg, 4.7 rpg] and their spark plug and all time leading scorer, Jerome Randle [18.8 ppg, 4.3 apg].
California looked for opportunities to run against Louisville and they rebounded well from the guard spots.  That means Duke must get back on defense.  Duke will try to defend the three point shot by pushing the shooters off the stripe, for the Bears are proficient from beyond the arc and they quickly move the ball around on offense.
The Bears will try to drive and dish or kick the ball back out.  It's basketballs version of the triple option and it can be effective.  But the Bears will have a pardon the pun, bear of a time against a Duke team that is just as hungry for victory.
Duke Coach Mike Krzyzewski has an NCAA best 71 victories in tournament play and he is looking for his 19th Sweet 16  appearance.   The Blue Devils have now won 30 games for the 11th time in school history and there is a hunger in the entire Blue Devil Nation for more.
The Blue Devils are a hungry bunch themselves and Kyle Singler is as tough a customer as they come and he'll be a load for whomever matches up with him.  Jon Scheyer also knows whats at stake and he in no way wants to close the season out just yet.  And let's not forget Nolan Smith who rounds out a pretty darn good guard tandem.
The Blue Devils have defended the three point shot well this season and defense will be  as vital as ever for a team which has held opponents under 60 points 18 times which is now the all time school record.  Krzyzewwski's troops also hold a huge edge in front court depth.  It'll be important for Lance Thomas and Brian Zoubek to establish themselves offensively early on for getting their opponents in foul trouble around the blocks could put the Blue Devils where they want to be, the free throw line.
The Blue Devils have been a good free throw shooting team all season and if they take care of business there, they'll be in good shape.  Of course, Duke is a good rebounding team as well and this should enable them to control the boards if they can block out Cal's quick guards out.
There is a look in the eyes of these Blue Devils and that look is one of take no quarter.  But Duke knows they'll be in for a tussle with a game California team, so there is no chance they will overlook the Bears.  Besides, all Duke fans hate to remember what happened in 1993 when Jason Kidd helped the Bears pull an upset, one which resonates in pain to this day for Duke faithful.
The Blue Devils may well shrink their rotation in this one, but it'll be important for the Plumlee's and Dawkins to add some spark off the bench for their game plan to work.  And with the nations number one team Kansas going down, not to mention Villanova you never know what might happen.
While Cal is probably the quicker team and Jerome Randle is as good a guard as Duke has faced all season, I still look for Kyle Singler to play as tough as it takes and Jon Scheyer and Nolan Smith to play with their usual passion and for them to lead Duke to an exciting hard fought win.
Check back in at Blue Devil Nation for full coverage of today's game and check out our numerous interviews which are all a part of our free section this weekend.  And for extended behind the scenes information and the latest on recruiting, join Blue Devil Nation Premium, our popular subscriptions site.  Benefits include access to all articles, a members only message board with the most rational discussion of any subscribers site and a chat room which remains open at all times.  With the AAU season coming up and football recruiting in full swing, the time to join is now.