[private]How does the win over Virginia feel?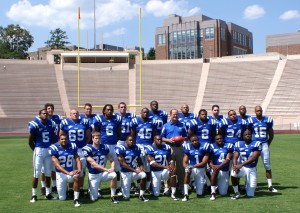 It feels really good.  It's our first ACC win since my freshman year when I didn't really play, so I can't count that as one of my victories.
Coach Cutcliffe said the seniors were really happy in the locker room.  Can  you elaborate on that?
We were really happy.  This is something we've been working for for a long time. A lot of us came back and are glad we have an opportunity to capitalize on that.  Like Coach said, we've got a new tradition.
In the pre season, I was talking to Goldberg and yourself.  At that time you weren't really sure how the weight loss would effect you.  You seemed a bit worried about getting a push off the ball on running plays.  Now that you are four games into the season, can we revisit that?
The deeper we go into the season, I see the weight loss as a positive thing more and more.  We are sustaining a lot longer through the duration of the game.  Actually, it didn't effect me that much.  We work on proper pad level and technique which helps get the job done.
What is being done differently in the locker room at the half which thus far has made the team come out with more intensity?
Not that much has been done differently.  We just go in there and make adjustments, but what has helped the most is that we are able to sustain.
You guys are having a lot of fun this season ...
Yeah, yeah.  Football is always a lot of fun.  It's even better when you win.
What will it be like going up against Georgia Tech?  There a team that will throw a lot at you on defense ... they will blitz a lot ...
Our game plan against Georgia Tech hasn't changed that much at all.  We just have to play our game.  They may be a big physical team on defense, but we are pretty good on offense and we look to establish ourselves.
You get some talking heads that say things like Virginia wasn't that good.  Do you still feel like you have to get another win to prove yourself a little bit or do you feel some sell your opponents short?
Honestly, our biggest competitor is ourselves.  As long as we can prove it to ourselves, that's what matters.  The people who say those things are entitled to their own opinion, but we know what we have to do to get to where we are or where we want to be.  There is always room to improve and grow, but we have definitely gotten better as a team.
I certainly agree with you there.  Has Coach Cutcliffe challenged the seniors?
From the beginning he has told us to step up ... not necessarily with the brunt of the responsibilities to get the team going, but as a senior you are a natural leader.  That's something you have to do.  We've tested by trial and fire.  He told us it is on our shoulders to get players to play at the greatest capacity they can.
*Pictured are the Duke Seniors, BDNP[/private]