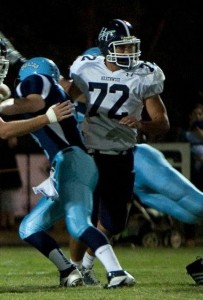 The 2013 offensive line class received another big boost on Monday afternoon, as Gabe Brandner added his pledge to join Austin Davis and Sterling Korona in Durham.  At 6'6″ and 250 pounds out of Heathwood Hall Episcopal School in Columbia, SC, Brandner brings great size and athleticism to the Duke o-line of the future.  He chose the Blue Devils over offers from Appalachian State, Air Force, and Clemson. BDN caught up with the new Blue Devil commit shortly after his decision.
BDN: What led to your decision to commit to Duke?
It's just been, coming from Heathwood, not many people get the opportunity to play college football and it was just unbelievable to have an offer from a university like Duke.  That definitely played into it. Coach Cut is just an unbelievable man.  I know that he will teach me a lot about character. Coach Jones and Coach Latina, just being around those guys, I know I'll be in really good hands up at Duke. I want to go and win games. I feel I can do that at Duke, play competitive football and get a great education, so it's really the complete package that Duke sold me on.
BDN: How did you inform the coaches and what was their reaction?
I first called Coach Latina, and he told me that's great news Gabe, we're excited to have you up, but you have to call Coach Cutcliffe. So I let Coach Cutcliffe know.  He was on his way to a funeral, actually - his aunt died - but he was just really excited to hear that I had chosen Duke. It was an exciting time for both my family and me, and they seemed sincerely excited also, so it's just a great fit.
BDN: What kind of player do you hope to be for the Duke program?
I want to be an All-ACC offensive tackle or maybe tight end for them. That all depends on how much weight I gain; I'm at 250 right now, but I have the frame to put on a lot more. I want to be the best player I can be for them, and hopefully be a starter for a long time for Duke University.
BDN: What schools ultimately factored in your final decision?
Funny story, actually.  As soon as I committed to Duke, I also picked up an offer from Clemson. All the offers I had were Air Force, App State, Duke, and Clemson.
BDN: Signing Day is still a long way away. What do you plan to tell other schools like Clemson when they keep calling you?
All I tell them is I'm a man of my word, and I gave Coach Cutcliffe my word. I'm a Duke Blue Devil commit, and I'm good for my word.
BDN: What do you have planned for the rest of the summer as you prepare for your senior year?
Actually, my dad and I already bought tickets, so we have to finish up the camp recruiting circuit. We're going up to Maryland and Navy, but obviously I'm a Duke commit, so I guess we're going to go pick up a t-shirt is really what we're doing. [laughs] I'm just lifting right now and getting ready for my senior season, I hope it's going to be a good one and we're going to try and win state. That's what my summer looks like, basically no vacation, just all work and no play.
BDN: Congratulations, Gabe, and thank you!
Thank you, you too.