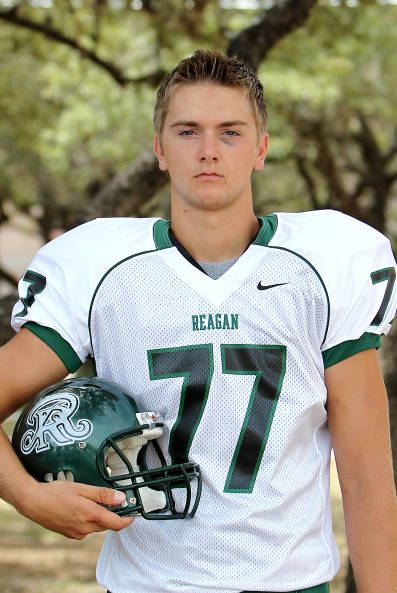 They say that good things come in threes. The Blue Devils hope that saying holds true for offensive linemen. In their two most recent recruiting classes, Duke has dipped into the state of Texas for three talented offfensive line prospects in Tanner Stone, Austin Davis, and now Sterling Korona. At 6'7" and 250 pounds, Korona is a big recruit for Coach Latina and the Blue Devils, both literally and figuratively. After choosing Duke over Kansas, Houston, SMU, Washington State, North Texas, Tulsa, and UTSA, the skilled rising senior explained his decision for BDN.
BDN: What led to your decision to commit to Duke?
Ultimately it was a combination of many things.  Coach Cutcliffe, Coach Latina and Coach Roper are fantastic people.  I think that Duke is going to do some great things in the upcoming years and I want to be a part of that.  Duke University is one of the greatest Universities in the world and it just seemed like the best fit for me and my family.  It was an extremely tough decision. During the recruiting process I was exposed to some of the greatest coaches in college football.  It was like a dream.  I could have chosen several of the schools that offered me and it would have been a good decision, I tried not to think of it as what program was better.  I believe Duke is the best place for me.

BDN: How did you inform the coaches and what was their reaction?
I called Coach Cutcliffe and he was in a coaches meeting.  I told him my intentions of playing at Duke and he put me on speaker phone and all the coaches welcomed me.  There was some cheering and it made me feel like I had made the right decision.

BDN: What type of player do you hope to be at Duke?
I intend to keep my mouth shut, keep my head down and work my tail off! haha...  Seriously I have some good skills and a good foundation, but I have a lot of things to improve.  I am going to become a student of the game and I am looking forward to working with Coach Latina. I hope to be a good representative of Duke University.  I want to contribute to the team and become an impact player.

BDN: What are your plans for the rest of the summer?
Work, Lift, Eat, Work, Lift, Eat and Work.  I am going to focus on being the best player I can be for Ronald Reagan HS and Coach David Wetzel.  I also plan on staying close to Coach Latina and Coach Roper.  No big plans, other than work.

BDN: Are there any other schools that you would listen to if they called? Do you have any other visits planned?
I am committed to Duke University.