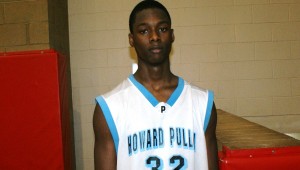 Day Two of the Nike Peach Jam is over and once again the nation's coaches were on hand in droves to see the nation's top prospects.  [private]The official word on Harrison Barnes' injury is that he has one finger nail hanging by a thread, and another finger which suffered a cut where a blister had formed.  "We had him taped up like a mummy but he will be alright" said his AAU coach.
Barnes was indeed alright as he led his Howard Pulley team to two wins today.  He erupted for 36 points and 10 rebounds in the morning game and capped that performance off with a 26 point game in the evening session.  His performances allowed Howard Pulley to win both games and even their record to 2-2.
Barnes' accomplishments were witnessed by Coach Krzyzewski and Wojo, and Kansas and UNC staffs - more on this on our message board.  The staff was also front and center for [private] Brad Beal, a 2011 stud who tallied 20 points and showed off numerous skills.  Duke will get into the thick of the race with Beal.
Brandon Knight was indeed injured, but it is a fracture and not as bad as originally thought.  David Rivers tossed in 9 points in the early game and his team went to 2-1, but they lost in the nightcap where Rivers had no go off the court with an upset stomach.
As I said on the message board, Hippolyte Tsafack is no longer on the radar and is the fourth big man in the rotation for Albany City Rocks.  Albany defeated Boo Williams this afternoon78-71 aided by the continued good play of Tobias Harris.  Dawkins who had scored 20 points in the early session under the watch of Chris Collins, had 15 points in this game.  Coach K and Wojo caught the tail end of his first game.
The Duke staff also watched Team Final, but Krzyzewski headed out after the afternoon sessions.  Wojo and Collins will remain as long as Duke targets are playing.  I talked to Brad Beal and Harrison today and will have some articles up on them at tournaments end.
The best players in the tournament have been Will Barton and Harrison Barnes.  I will post some statistics from the camp tomorrow afternoon. [/private]