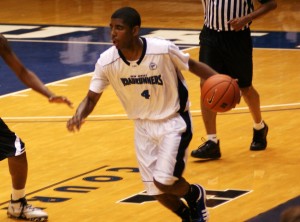 Springfield, Mass - The Blue Devil Nation's Andrew Slater was on hand to cover the HoopHall Classic in Springfield, Massachusetts this past Monday where Kyrie Irving and company were participating.  Irving, of course, is Duke's point guard of the future and Blue Devil fans anxiously await his arrival in late July when he will be on campus.
Irving missed a free throw which would have put the game into overtime, but his second half play helped St. Patrick's stay in the contest.  Irving tallied 30 points for the game and having watched him play on several occasions, I can tell you that he more often than not wins games with his performances.
Despite the tough loss, a naturally upset Irving still took time to answer some questions and he did so with his usual dignity and grace.  Make no mistake, that Kyrie Irving's star continues to soar and that he will instantly become a star in Durham in the coming year.

Can you talk about tonight's game and your overall performance?
The first half was kind of difficult for us, especially for me. It was a big game, you know, national television and..
Cory Joseph had a great first half.
Yeah, but it was a great effort on our part. We had a great second half, but we couldn't come through.
Can you talk about the end of the game situation?  You went coast-to-coast.  What were you looking for on that possession?
Oh, I was looking to get to the basket as soon as possible. Yeah, I just wanted to get a bucket because our team needed a bucket. They were up by two and I had a chance to close it out, but I just couldn't come through.
What is it like to play in this tournament?   The Hall of Fame nearby, big crowds, quality teams, and ESPNU televising it?
It's [private] a great experience to be able to come to Massachusetts. This is where my father went to college. He went to Boston University. I mean playing in Springfield. This is history here. There were great players that came through here and made the NBA. I'm glad I got to experience it with my teammates.
What was it like to make to match-up with Cory Joseph?
It was a great experience. We're some of the top point guards in the country, if not the top two along with Brandon Knight. It was great to go against him and face the competition and bring me to another level. The first time I ever faced him was at the NBA camp and we developed a little bit of friendship, but it was great going against him.
What's the best part of his game?
His quickness and his ability to get up and down the floor. I didn't know he was that quick until today.
In the second half, you really took it to him, but in the first half did his speed make it difficult for you to operate?
Yeah, he definitely did. There were a lot of missteps, um, I mean mismatches, you know, we were going to put our little point guard, Kevin Boyle, Jr., on him, but that didn't work. Then they put me on him and then just kept switching.
Yeah, I've just got one question. It's about New Jersey basketball. You guys must be proud that there are three teams that are so talented in such a tight area. Is the level rising or has it always been this way? Is this more than usual?
Yeah, I definitely think most of the people being seniors. It definitely raises the level.
Can you talk about how you came to your decision and was there an exact moment when it became clear to you that you'd be a Blue Devil?
It was just basically Coach K and the whole entire coaching staff. They did a great job recruiting me. Even though they came sort of late into the game, I thought it was a great decision on my part. Especially going on my official visit, I fell in love with going there. It was great.
Was there that one moment or epiphany?
That moment where I stepped on the campus. I felt like a student. You know that's what made me make my decision.
What, if anything, has Coach Krzyzewski asked you to work on or concentrate on this season?
Just work on my physical and..
The added muscle in your arms in noticeable.
Oh, yeah. Just being a little more vocal and a leader on the floor.
Who was recruiting you to Duke?
It was Coach K the whole entire time. It was also Coach Collins. Those were the main two, but it was always Coach K.
Is it daunting at all to go to a program like Duke and all of that history?
It is. Duke is known for, well, maybe not known for that but like people say, when they've had great point guards from New Jersey, they've won championships.
Do you talk to the other Jersey point guards?
Oh, yeah, I've talked to Jason Williams several times, but I haven't talked to Bobby Hurley.
What are you doing to prepare for next year?
Just getting in the weight room and trying to be a better leader. This year is big for me, you know, it's historic. If I would've made that shot, I think we would've won the national championship so I'm kind of hurt, you know. We'll just take it from here.
Point guard at Duke is really a marquee position. It's sort of like being quarterback at USC. Was that part of the attraction?
Um, yeah, I'd say it gets me excited, especially the opportunity to play for one of the greatest coaches in the history of basketball. So, yeah, it feels great.
I've read that "hungry and humble" is kind of your motto. Can you talk about how you use that on the court?
Just being the most aggressive one out there, but knowing that I can always do more.
Do you think you've taken your game to yet another level this season, from as relatively recently as the summer?
Oh, yeah, I've definitely improved certain aspects of my game. Definitely my consistency and being a floor general out there.
In the fourth quarter, you really made some tough shots and you really sort of drove it to the rim.  You took over even more and Michael his ankle was hurting pretty bad. Did you think you needed to do that or did the game come to you?
I think it was both. In the fourth quarter, definitely a little bit is when you start going and I had a difficult first half, but I think I definitely stepped up in the second half.
Talk about this interview on the BDN Premium Message Board .  [/private]