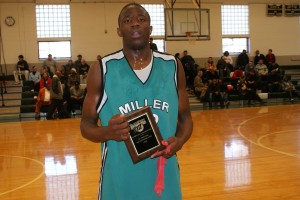 Andrew Slater was on the scene at Rumble in the Bronx this past weekend where he covered Hippolyte Tsafack and Kyrie Irving.  Here is his first interview with Tsafack and we feel you'll agree that Slater is one of the best at getting the story behind the prospects.  So, enjoy this detailed interview where BDNP once again proves that this site is ahead of the curve.   Our coverage of the NBAPA Top 100 Camp begins this Thursday and members will get timely reports just after the action takes place.  It's a great time to join Blue Devil Nation Premium where you'll get the best  Duke Basketball recruting coverage available.
On a humid Friday night in the Bronx, at the Vince Lombardi Center on the campus of Fordham University, Hippolyte Tsafack, an energetic and gregarious 6'8" Cameroonian power forward prospect, spoke with me about a variety of topics ranging from his pilgrimage to America, what he is looking for in a college, and what he can bring to a program.
Hipp, as he is known to his teammates, helped guide the Miller School of Charlottesville, Virginia to its first state title over Duke recruit Andre Dawkins and his Atlantic Shores team, 69-61, this March. On the night of the interview, he was playing for the Albany City Rocks and his coach and guardian, Jimmy Hart, in the Rumble In the Bronx AAU Tournament. Following the interview, Tsafack played his best game of tournament scoring 12 points and grabbing 16 rebounds, including seven offensive rebounds.
Given the nature of his answers, [private] I feel it is necessary to clarify that, in no way, did Hippolyte Tsafack know that I was, in any way, connected with Duke University. I neither told him which web site I was affiliated with nor did I wear any Duke-related apparel.
Blue Devil Nation: Tell the audience about your journey from Cameroon to Charlottesville, Virginia.
Hippolyte Tsafack: Sure, I played basketball in Cameroon. I played in front of Ruben Boumtje-Boumtje. He played for Georgetown. He asked me to come and work out. I played for, like, two weeks and then went back to Cameroon. Then, schools wanted me to come after that time.
BDN: I know that Cameroon is officially bilingual, but did you find language to be a big adjustment or a stumbling block in your move from Cameroon to Charlottesville?
HT: Big.
BDN: Did you just speak French in Cameroon?
HT: Yes, just French.
BDN: Oh, wow. Did you find the adjustment to be tough?
HT: Yes, very tough, when I first got here.
BDN: Did you regard your move as a business decision?
HT: It was for an education. I did it so I can help my mom and my family.
BDN: Do you come from a large family?
HT: Oh, yeah, very large.
BDN: I was trying to study about Cameroon last night. Do you come from the more populated southern part of Cameroon?
HT: Yes, yes, I come from the southern part. I come from Yaoundé, which is the capital.
BDN: Thank God. That's the one town I made sure to memorize and pronounce.
HT: (laughs)
BDN: What was your experience like this Spring, between competing for a state title and your recruitment heating up?
HT: Last year, it was very bad. This year it was very good. We won and I got scholarships to different universities. I never believed it could happen to me. It's been great.
BDN: Someone was wondering, will you be going back to the Miller School or will you be looking at some other schools?
HT: I think I'm going back to the Miller School for my senior year, but I haven't made that decision yet.
BDN: Do you have a timeline for when would you like to decide on your college, cut down on your list, visit schools officially, etc.?
HT: I don't know when. I could decide at any time. I don't really know what time exactly. I'll try to, but I just don't know when.
BDN: Have you been able to visit many schools thus far?
HT: I've seen a few schools, but I'd really like to go to schools that I really like. I'd like to go to a special place that I really like.
BDN: Are you doing well in school?
HT: Yeah, I do okay. I'm trying.
BDN: Well, you must be doing very well in French.
HT: (laughs)
BDN: Have you taken the SAT yet?
HT: Yes, May 2, but I don't know what I got yet.
BDN: What schools have offered you so far?
HT: Maryland has offered me. Fairfield has offered me. Virginia Tech has offered me. I've got to watch Duke. Clemson, Florida has offered me, I think. I don't really know the others, but I think I really want to go to Duke, but I'm going to take my time.
BDN: Well, that segues into another question that someone wanted to know, what is your impression of Duke?
HT: Oh, man, very special. I really want to go there. I mean I really, really want to play for Duke and in the ACC. That's what I really, really want. I really, really hope I can.
BDN: Have you spoken to any of the coaches yet?
HT: Yes, I got to speak with Coach Nate James. I talked to, like, two coaches.
BDN: Did you like them?
HT: Oh, I liked him. I liked them a lot.
BDN: How good was the level of competition that you faced in Virginia compared to what you see in AAU ball?
HT: Competition in Virginia is good, but AAU took some adjustment. At first, I didn't like it, but now I really like playing in it. I think I got it now.
BDN: What is your current height and weight?
HT: I got 230. I got 6'8."
BDN: Do they have good facilities there, at the Miller School, for, like, working out?
HT: Not really, you can do it only, like, two times a week and there might be a crowd.
BDN: In your pictures, you looked really strong so I wondered if it was from working out or if you were just naturally that defined.
HT: Just natural (laughing). Just natural.
BDN: You're lucky. What would you say is the thing you do best right now on the basketball court?
HT: Offensive rebounding. I can grab the ball and then pass it out or put it back up. That's the thing I think I can do really well. The coaches say I have good court vision. So I look to pass, after an offensive rebound. I look for someone with a shot, an open shot. (does an imitation of using his peripheral vision after an offensive rebound to find teammates)
BDN: What do you think you need to work on most before you arrive on a college campus?
HT: I think I've gotta work on most is, um, really establishing position. Because sometimes I catch the ball and I'm like (demonstrates pump fake and moving his feet). I think that's the number one probably that I need to work on.
BDN: You've got a rather unique first name. Were you named after the Greek god or the third-century Catholic martyr and theologian?
HT: Yeah, I'm Catholic.
BDN: I thought that might be the more likely one.
HT: My mom is Catholic. My dad's Catholic.
BDN:Sure, what position are most schools recruiting you for?
HT: Power forward, power forward
BDN: Having grown up in a soccer culture, how do you feel that's affected your basketball footwork, endurance, and mobility?
HT: I played soccer, yes, but… Oh, God, am I terrible. I'm just terrible at soccer.
BDN: What? Were you a goalie?
HT: Whatever I played, I was terrible at.
BDN:Who are some players you model your game after? Were Ruben Boumtje-Boumtje or Luc Richard Mbah a Moute players you looked up to?
HT: No, no. Kevin Garnett. He's the player I'd like to play like most.
BDN: For those in the audience that haven't seen you play, can you give them a scouting report on you?
HT: (gets emotional) I push my teammates. I bring energy. I never stop playing. They hit me. I keep going. I never stop. I play every game like it's my last one. I just keep trying. I go after the ball. I can block shots.
BDN: Well, if you bring that energy or passion, coaches will love that.
HT: Oh, I don't know. I hope so, man.
BDN: Where do you plan on going to camp this year?
HT: I don't really know yet, I don't know if I've been invited to any of the big camps yet. I think they want to see how I play in front of AAU crowds and stuff like that. I think I've got to do better if I want to get to the camps that I want to go to.
BDN: Do you get to watch a lot of television? ESPN? College basketball? I know they usually have a community television for a dorm.
HT: I watch television everywhere I go. I watch college basketball all the time. I watch Duke all the time. I watch the ACC, Florida sometimes, and UCLA too.
BDN: Can you assess your defense?
HT: My coach thinks my defense is pretty good actually. I play the ball pretty well. I try to lock down my man.
BDN: You've got big hands, even for your height.
HT: Yeah, I've got big hands, but I don't really try to block a lot shots. It just happens. I just try to go straight up. You know keep my hands up. So I can defend, but not get in the foul trouble. (Hipp demonstrates how he defends and goes up in the air as well)
BDN: Do you enjoy the AAU season?
HT: Oh, man, I really enjoy it. That's so much fun. You get to play basketball games and be with your friends and travel too. I really love it, man.
BDN: Who's been the most difficult guy for you to guard?
HT: Oh, man, the most difficult player I ever guarded was probably Ed Davis. He plays for North Carolina.
BDN: What sort of style of play will you be looking for in college?
HT: Up, down, never stop playing and high energy
BDN: What is your summer schedule going to be like?
HT: All of them. I go to Peach Jam. I go to Nike camp. I go to Florida.
BDN: What's your range normally?
HT: I can go to the (foul) line…I can go shot…boom (Hippolyte demonstrates how he shoots a jumper)
BDN: What will be the most important factors in deciding on the university that you ultimately choose? What are you looking for in a college? What are your priorities?
HT: Oh, the first thing is the education. That is number one. Then, I want to be the best I can be. To try to be the best. To try to move up in life. To try to make things better for me and my family. I think if I go to Duke I can do that. That's why I want to got there. I want to get a the best education and I want to win the ACC. I think if I go to Duke that will give me the best chance to accomplish those things over any other school. I want to win the ACC and, if I go to Duke, I can get the chance. I really want to go there, man.
BDN: Can you assess your rebounding ability?
HT: Oh, man, you'll see. I promise I'll go hard. You'll see I'll go after the ball and, when I get it, nobody will take it away from. I hold onto it.
BDN: And how would you assess your play over the AAU season thus far?
HT: I think I'm playing pretty good right now. My game was going not so well a few months ago, but I kept working on my shooting and I kept practicing and stuff like that and it's coming back and I'm happy about it. I think it's really come back.
BDN: How long have you been playing basketball?
HT: For, like, six years, I've been playing basketball.
BDN: Before you ultimately decide, who will you seek guidance from in your college decision?
HT: It will be my decision, but I think I will call my Cameroon coach before I decide. He knows America too. I think he's who I'd call.
BDN: What are your feelings about Coach Krzyzewski? Have you ever spoken with him?
HT: Wow! I mean wow! He coached the Dream Team. He coaches Duke. I mean you can't get better than that. I mean wow.
BDN:After basketball, whether that is in college or in a professional league, what would you like to do with the rest of your life? Have you thought about that at all?
HT: Good question. Nobody ever asked me that. I want to work on my foundation. I want to help people with schools. I want to help with peace. I've thought about those things and I keep thinking about it. So I want to bring peace and I think that I can. I want to keep thinking about it.
BDN: So you're thinking big?
HT: Yeah, man, I'm trying to think big.
BDN: What would you like the audience to know about you away from the court?
HT: That I'm a normal person. That I'm just like everybody else.
BDN: Thank you very much.
HT: No, thank you. Thank you for telling people about me. Merci, man. [/private]