Duke is looking at two more 2009 Point Guards - If you have been reading our premium message board you already know this, but the Blue Devils decided to look into two more point guards in the class of 2009.  Duke Assistant Coach Nate James will take in Eric Bledsoe's game at Parker High School today.  James has been in ... for an extensive report on this situation and a team update from today's interviews, join BDN Premium! [private]contact with Bledsoe and Coach Krzyzewski has also talked to the 6-0, 162 Birmingham, Alabama product.  Bledsoe played his AAU ball for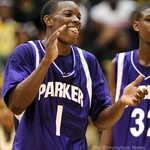 Birmingham Ice this past summer.  With concerns to questions on the message board of whether I have seen him play, the answer is yes, but I was not focusing on him at that time.  Bledsoe will not back down as a defender and takes the ball aggressively into the teeth of the defense in an effort to find teammates.  He is a pass first PG who many praise for his toughness.    He holds offers from Kentucky, Florida, Alabama, South Florida, Alabama and Ole Miss in a list which is growing.  Bledsoe really likes that Duke has entered the picture.
The other kid garnering the Blue Devils attention is Darius Smith, a 6-2 athletic senior who plays in Krzyewski's hometown of Chicago.  Smith is more of a tweener, but most project him as a point.  He is very aggressive on the offensive end.  Duke has been in contact with Smith.  Duke has yet to see Smith but they have set a visit date to check him out next week.
Despite what you are hearing on other sites, Duke is still optimistic of getting John Wall over.  Of course, it would help if he was allowed more access by his entourage of controlling figures.  It remains to be seen if John can or will break free and make his own decision.  N.C. State and Baylor are IMO the two favorites.  Final developments should occur with this situation sooner rather than later.
Duke does not consider Bledsoe and Smith backups to Wall at this point.  Duke is in the beginning stages of getting to
know them, but they'll waste little time.  As always, Coach K has to see a player play in person before an offer is put on the table.
So, the bottom line is that Duke is looking for an athletic, quick point guard.  If they feel one of these kids can help them next year, they will offer them.  Duke is not looking just to fill a scholarship.  And yes, there is a possibility two offers may go out.  Duke will evaluate them and if the kids are good enough and they like them as people, there are spots available.
Kyle Singler is  ready to go-  Kyle Singler particpated hard in today's afternoon practice and is showing no effects from a late game injury.
Dave McClure - Is starting to feel better and should be available against Wake as well.
No starting lineup set yet - Coach K has not told his team who is starting against Wake yet.
Nate James getting acclimated - Duke is breaking in Nate James who will be doing a lot of work on the AAU circuit this spring and summer.  James will remain active throughout the season.
Expect Duke to - Come out with a similar lineup against Wake but then substitute freely.  I think nine players or more will see some action.  Look for Duke to defend their home floor with a fervor for they are well aware that they have just two more home games and some tough road contests coming up.
Elliot Williams - There is no doubt that Elliot has been a bit frustrated, but he seems to understand the process was for the best.  Williams talked with several family members after the game.  Williams was lauded by his teammates, especially Gerald Henderson who said he really shuts down some of the lanes going to the basket.  Henderson seems to have taken him under his wing.  All of the freshman room together. [/private]