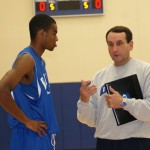 For those of you who have been following off season happenings, you may have known that Elliot Williams mom is very sick.  I got the news  late last evening that Elliot would be transferring from Duke in order to be near his Mom and family.  BDN posted the news on our members message board and elected to let the Duke SID office announce the news.   The Blue Devil Nation wishes the Williams family the best.
I know it's hard to fathom this departure, but there are times when we must put life in perspective.  That said, I will tell you that Williams left with Coach K and his staffs full blessing.  Make no mistake, the news changed the Blue Devils outlook on next season and expectations have been significantly lowered as a result.
Duke fans were excited when they landed Eliiot Williams and visions of him breaking out this season gave the faithful hope that the 2009-10 season would be one to remember.  But faithful is the keyword here and we're about the separate the real fans from the bandwagon fans.  When there is an unfortunate controversy, we're suppose to come together.
Coming together is what the Williams family is doing and as fans we should support them and follow their lead by coming together in a unified way for a team that is terribly thin in the backcourt.  Jordan Davidson will return to the team after back surgery and a student manager will take a spot on the team as well.  There is some speculation that a football player may help out, but that seems unlikely unless there is a redshirt freshman available.
We'll miss the slashing drives and thunderous dunks Williams brought to the table, but life has a way of testing us.  And this is a situation which we should work through together.  Anyone who has ever dealt with a sick family member would have done the same thing.
Williams will petition the NCAA for a waiver as we first reported and it is believed that he will become a Memphis Tiger.
Official Press Release -
Elliot Williams To Leave Duke For Family Medical Reasons
DURHAM, N.C. – Rising sophomore Elliot Williams has decided to leave Duke University for family medical reasons, school officials announced Wednesday. He is expected to file an appeal for a waiver of the NCAA's year in residence transfer rule that would require him to sit out the 2009-10 season. Williams is seeking to transfer closer to his hometown of Memphis, Tenn., to be near his family.
"Our thoughts and prayers go out to Elliot and his family," said head coach Mike Krzyzewski. ""We fully support him in his efforts to be closer to them during this trying time. He is a good young man with an opportunity to become an outstanding player. We wish him well as he determines his future. He will always be a part of our program and we will always be in his corner."
Williams averaged 4.2 points and 2.3 rebounds in 34 contests a year ago. He started 11 of the final 12 games of the season as Duke claimed the 2009 ACC Championship and advanced to the Sweet Sixteen of the NCAA Tournament. The Memphis, Tenn., native had five double-figure scoring games as a freshman, including a season-high 15 points at Maryland on Feb. 25. He also posted an 11-rebound game on Nov. 11 against Georgia Southern and sparked a 101-91 Duke win over Wake Forest on Feb. 22 with a season-high four steals.