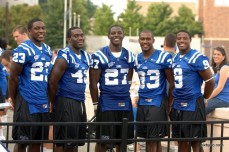 Duke (1-3) will travel to College Park for the first time since 2003 on Saturday to try and put a stop to their disappointing 3-game losing streak. Meanwhile, the Maryland Terrapins (3-1) will look to extend their winning streak to 3 games, while avenging last season's loss in Durham. The showdown in Byrd Stadium presents the young Blue Devils with an opportunity to overcome their early season struggles and turn their season around as they head to their bye week.
Duke in Week 4
Duke fell to Army, 35-21 in last week's Homecoming game in Wallace Wade Stadium. Turnovers were the story of a forgettable day for first-year starting QB Sean Renfree, who threw three interceptions and added a fumble. The Blue Devils finished with five turnovers, and were just 1 of 8 on third down. Conner Vernon continued his strong start, finishing with 8 catches for 129 yards and a late touchdown, though he also added a fumble of his own. The defense showed improvement from earlier contests, holding the potent Army rushing attack to 3.8 yards per carry, but did give up two big touchdown passes in the 3rd quarter, which sealed the win for the Black Knights. After a strong performance against Alabama, freshman LB Kelby Brown continued his strong play, leading the Blue Devils with 10 tackles.
Maryland in Week 4
Filling in for the injured Jamarr Robinson, ACC Freshman of the Week Danny O'Brien led the Terrapins to a 42-28 victory over Florida International. The redshirt-freshman QB finished 18 for 27 for 250 yards and 3 touchdowns. The Terrapin offense scored on 4 plays of greater than 50 yards, including big runs from Da'Rel Scott and Davin Meggett, and a 68 yard strike to standout WR Torrey Smith. It was a mixed day for the Terrapin defense, which came away with two interceptions, held FIU to 2.9 yards per carry, but gave up 355 passing yards.
Analysis
Momentum appears to be in the Terrapins' favor, who have already eclipsed last year's 2-win mark and are thirsty for revenge after a sloppy 17-13 loss to Duke in 2009. The Army loss was deflating for this Duke team and its fanbase, but a win in College Park would go far to restore the confidence of this team and the Blue Devil faithful.
The Terrapin offense will present a significant challenge for a struggling and banged up Blue Devil defense. Maryland boasts one of the most balanced offenses Duke will see in 2010, entering the contest at 4th in the ACC in scoring, while also averaging an almost even 160 yards rushing and 160 yards passing per game. While O'Brien, a player Coach Cutcliffe recruited, has earned the start, Robinson is also expected to be available, giving the Terrapins a dynamic passing/rushing tandem under center. The duo of Scott and Meggett lead the rushing attack, which has averaged 4.8 yards per carry and scored 7 touchdowns in 2010. The best way to contain the Terrapin offense, however, would be to find a way to slow Torrey Smith. Smith already has 5 receiving touchdowns on the year (including 4 in his last two games) and is second in the ACC in receiving yards behind Duke's Conner Vernon. Duke's defense is allowing 237 passing yards per game and has already given up 10 receiving touchdowns. While they don't turn the ball over, the Terrapins do lead the ACC in penalty yards, a trend the Blue Devils hope will continue on both sides of the ball Saturday.
In summary, defensive keys for Duke:
1. Limit big plays for the Terrapins by slowing Smith and finishing tackles against the run.
2. Bring pressure. The Terrapins gave up 8 sacks in week 3 to West Virginia.
3. Play tough on 3rd down. Maryland enters the game last in the ACC in 3rd down conversions.
Just as Duke will have its hands full with the Maryland offense, the Blue Devil offense should bounce back and challenge an inconsistent Terrapin defensive unit. The game will feature the ACC's top red zone offense (Duke, 13/13) against the ACC's top red zone defense (Maryland, 10/18). Florida International demonstrated that it's possible to throw the ball against the Terrapin defense, which is allowing 186 passing yards on the year (which includes a game against run-heavy Navy). The defense is anchored by an impressive group of linebackers, led by senior Alex Wujciak, who enters the game second in the ACC in tackles at 12.2 per game. The Terrapin defense has forced an impressive 10 turnovers on the year, but has just 5 sacks, allows nearly 200 rushing yards per game, and ranks last in the ACC in 3rd down defense.
In summary, offensive keys for Duke:
1. Take care of the football. Turnovers doomed the Blue Devils last week and the Terrapins defense is hungry for takeaways.
2. Keep the offense balanced. Renfree to Vernon has been a pretty thing to watch so far in 2010, but Duke's other receivers have been inconsistent. Duke needs to get a few more of their receiving weapons going while also allowing Scott and Snead to break some big runs to really open things up.
3. Move the chains and convert in the red zone. This looks like a game where 3rd down and red zone conversions will be the deciding factor.
In closing, the Blue Devils should also be wary of Tony Logan, the ACC's leading punt returner, who took one to the house last week for 85 yards. In contrast, Coach Cutcliffe insists the Blue Devils have been close to a return TD themselves, and a big special teams play will swing the momentum.
BDN Prediction
Every week presents an opportunity for the young Blue Devils to turn things around, and the trip to College Park would be as good a time as any with a bye week looming. After showing improvement on defense against Army, the defense will face a stiffer test in a balanced Maryland attack. Allowing big plays and turning the ball over are trends that need to be reversed for the Blue Devils to stay competitive. Coach Cutcliffe has praised the character and work ethic of his young team, and it will have to be on full display in a hostile environment Saturday evening. The margin for error is slim, but the BDN consensus is that the Blue Devils will pull together for a hard-fought and much-needed conference win.
The BDN Football staff split 2-1 in favor of Duke on this one and the consensus pick was Duke 34  Maryland 33